August 18 – September 23, 2023
Home-made cards for friends and family
Aldo Benini, AU Park
Aldo is a Swiss national who has lived in AU Park since 2000. Now retired, one of his hobbies is making unique birthday cards for friends and family. His creations combine an image, a poem, and a personal message in English or German, and sometimes French. His images are often his own photos. His biggest challenge is finding an image and a poem that meaningfully relate to each other. Empathy with the individual recipient is the key driver. Aldo shared three different cards with Little Gallery.
July 21 – August 18, 2023
Salt-N-Pepa Collection
Emma Keyes from Fessenden Street
Emma grew up on Fessenden Street but she now lives in Luxembourg all the way in Europe. When she was a kid, she was an avid collector of salt and pepper shakers, starting with her first set shaped like the Capitol and Washington Monument (featured in this exhibit). She doesn't actively collect them anymore, but she was happy to dig out a few of her favorites to put on display.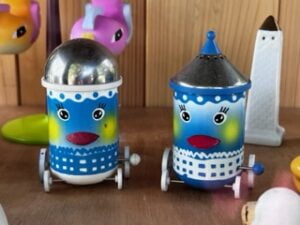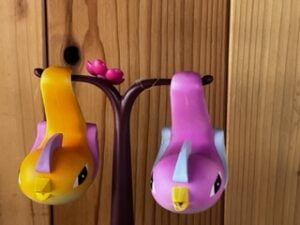 July 21 – August 18, 2023
Succulents
Sean Casey from Fessenden Street
Sean grew up in Wisconsin where he had little opportunity to experience succulents. Here is a selection from his current collection. Sean says he's attracted to the variety of shapes succulents take while all facing the same challenges of living in a hot, arid environment. "Look to the succulents – this could be our future."
May 27 – June 19, 2023
A one-woman exhibit!
Painting, Photography and Music
Zaira Chowdhury
Zaira Chowdhury is a photographer based in Washington D.C. Drawing from her graphic design aptitude, Zaira aims to convey intricate and multifaceted perspectives through her dynamic composition and framing. Her pieces were featured in the international 2022 Advanced Placement (AP) Art and Design Exhibition (which displayed works of a select 50 out of 64,000 applicants) and have earned over ten Scholastic Art and Writing Awards including a Gold Metal Portfolio Award in 2023. For all inquiries concerning purchasing, please contact zairachowdhuryphotography@gmail.com
Painting, Photography and Music
Painting:
This selection of watercolor paintings by Zaira Chowdhury were completed during the pandemic to address some deeper effects it had on our community. The center painting, Delusion, projects the universally disorienting and destructive experience of anxiety and depression during the COVID-19 lockdown. The watercolor on the left and the watercolor on the right is an observation of a scene in Bangladesh where the impact of the pandemic negatively affected shop owners.
Photography:
Beginning with a simple fascination with her environment, Zaira Chowdhury's photography now focuses on her distinctive and individual perspective of basic surroundings. From focusing on how shadows can create shapes out of the jagged edges of a marble staircases to noticing the dissective reflections made by a subject and two mirrors, she is able to distill a scene to find the most striking details to amplify in her composition.
Audio:
"On my Own" is a  composition that details how one reconciles with themselves after the pandemic, and how one manages self growth and progress while in the absence of others. Trained in instruments spanning from electric guitar to classical violin, Zaira Chowdhury has been creating original music since the age of eight. For her senior project, she took on the challenge of writing, recording, and producing a song by herself with little knowledge of how to mix and master a melody. This is the product of those efforts. 
May 8 – 27, 2023
Snow Globes
Jane Mandelbaum in Tenleytown
I have lived in Tenleytown since 1986.  I still have the first snow globe I started with.  It is a Washington snow globe I bought on a school trip, and which my parents tried to sell years later at a yard sale.  I had to buy it back from them for 25 cents.
I like snow globes because they are like a little view into another world.  I am exhibiting some globes with animals, because May is when we see all the new baby animals around our own little world.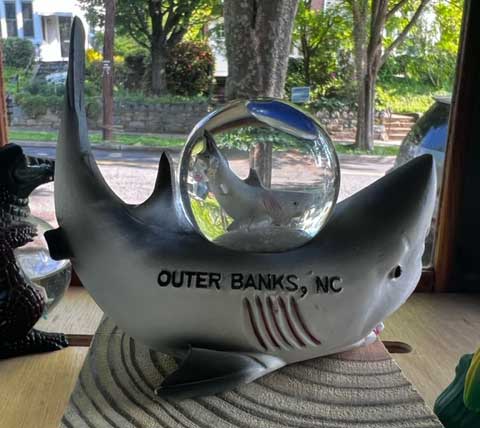 April 17 – May 8, 2023
Collage 
Barbara Kraft on Upton Street
I'm a retired lawyer, artist and resident of Ward 3. I previously served as president of the Washington Studio School Board of Directors and have studied art at WSS and other institutions. I work in collage, acrylic, oil and sculpture and use found objects and materials including fabric, cardboard, plastic and metal. The collages on display at Little Gallery were created each day over the past 11 months for a young friend hospitalized at Children's National Hospital. Acknowledging that I was powerless to affect her cure, I tried to express my love for her and her family by texting daily an image of the collage I'd created that day.   
March 25 – April 17, 2023
Orchids in Bloom 
Stacey Marien on Fessenden Street
Stacey is a retired librarian and living her best life in the Art District of Fessenden St NW.  She's been knitting and crocheting since she was a kid.  She made knitted trees to hang from a garland for Christmas and loved them so much, she decided to try her hand at crocheting flowers.  She made the daffodils first followed by the daisies and blooming flower.   Her partner Sean is the orchid master in the house so she tackled crocheting some orchids and was very pleased with the outcome.  No water or light needed!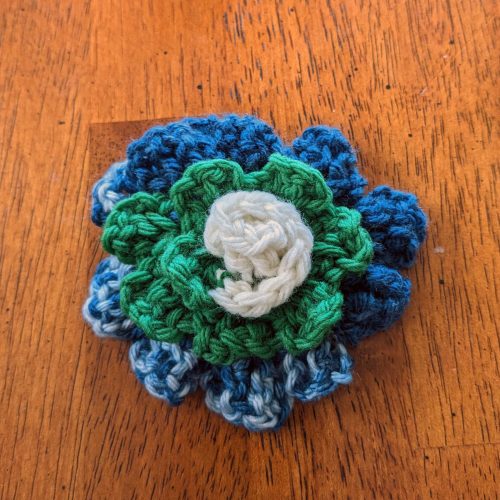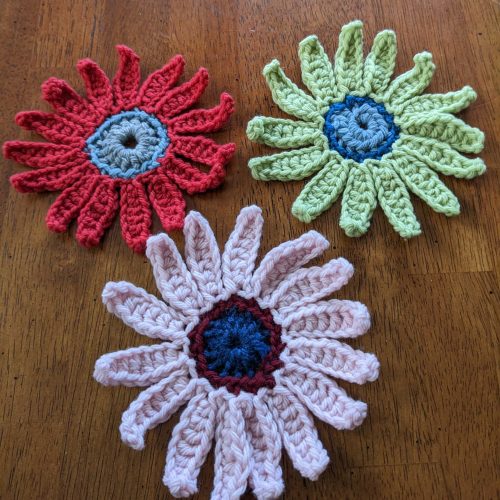 March 4 – 25, 2023
Here comes spring! 
Betsy Edelmann on Fessenden Street
I returned to pottery during the pandemic after a 25-year break! Our cat wakes me up early and that's when I get to work. I am inspired by nature and the thought of spring and Easter inspired my newest creations.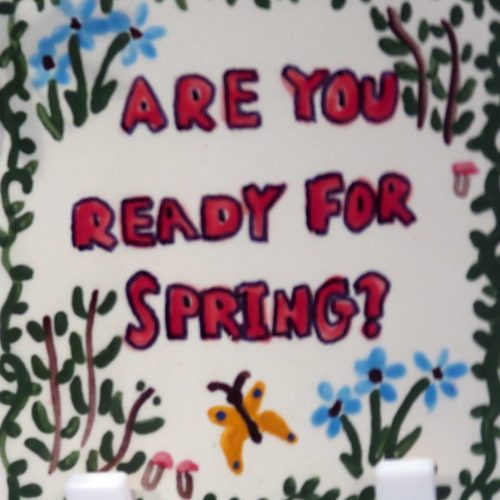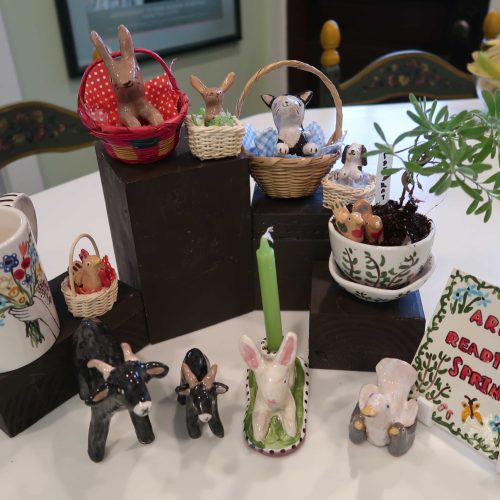 January 12 – February 8, 2023
Sculpture
Elizabeth Ashe – sculptor and poet
Elizabeth Ashe is a sculptor and poet, who earned her MFA from the Mount Royal School of Art at the Maryland Institute College of Art, and an MFA in creative writing from Chatham University. Her public art projects have recently been on view at Canal Park for the National Cherry Blossom Festival and several Art All Night DC locations. Ashe's poetry has appeared in Bourgeon, Tribes, Yellow Medicine Review, Vagabondage, and Badlands Literary Journal, among many others, and art reviews in Artscope Magazine, the Washington Diplomat, and upcoming in Art Lantern. Her work is included in Studio Visit Magazine, issue 46.
Ashe has received several grants from the DC Commission on the Arts and Humanities for curatorial projects and her studio practice. She and two artists were interviewed on the Kojo Nnamdi Show in August of 2019 for "Play, Protection, or Peril," an exhibit that addressed gun violence in our culture. Ashe is a board member of the Washington Sculptors Group, and serves on the Tenleytown Public Art Sub-Committee. Ashe lives in Washington, D.C., where she has an active studio practice. She is the Exhibit and Event Technician at the Katzen Center, American University.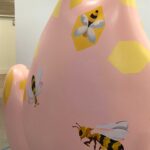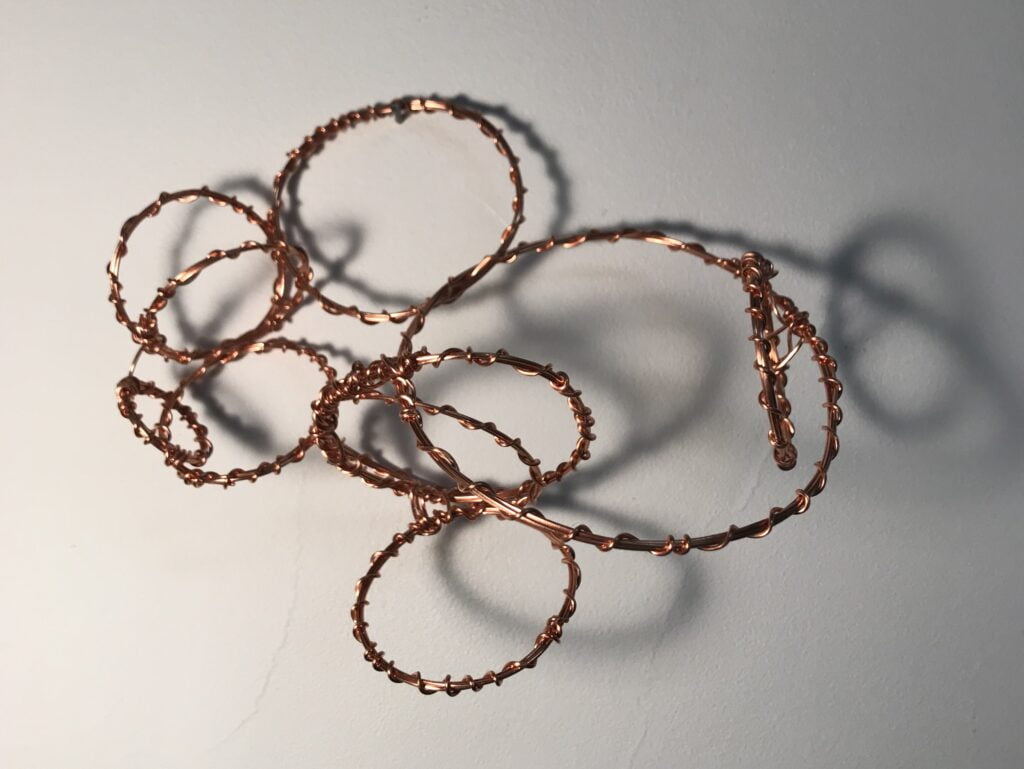 I began playing with copper wire when I was young. I love its flexibility, visual warmth, and patina. In the "Playgrounds" series, I began using copper wire in a new way – basing organic shapes off the proportions of wrapping wire around my hands – and using the wire as a maquette view for working larger. I enjoy playing with them, setting them in new places and orientations, and how the circles, shadows and connection lines talk to one another. The conversation within each piece, reminds me of how we speak and tell stories, especially how children ask questions. While the series has taken the dimensions leap of a few inches to several feet, I still love the intimacy and wonder of these small sculptures.
December 17, 2022 – January 12, 2023
Mom, Dad, Son!
They're all here! What a talented family!
Photography
Dad – Mauricio  Chavarría Iglesias – Westbrook
Mauricio started taking out his cell phone to capture scenes that caught his attention and fancy. Beyond the usual family and pet pictures, his albums were slowly populated with architectural details, snaps from nature, and simple everyday life scenes. Mauricio was encouraged to show his photographs by his wife, Anabell, who discovered his work as it started to appear on his computer and phone backgrounds. Initially thinking it was cool stock photography, Anabell applauded Mauricio's eye for great angles once she learned it was his work. Mauricio's passion is rooted in water projects, and shown today at the Little Gallery are two photographs with a striking contrast- the Pacific ocean on a peaceful beach day in the Central American tropics, alongside the Maryland and Virginia sides coming together at Great Falls. It is a tribute to water and to the global North and the South, places Mauricio calls home. The third picture is from a lone cherry blossom at DC's tidal basin and taken in Spring 2022. The cherry tree, quite thin and a with a single branch, offers its blooms amongst lush trees around it. It is a reflection on how everyone has something to give in all seasons of life and they can bloom just as they are and choose to offer something to the world. Finally, the fourth pictures presents Cheasapeake Bay.
Painting and Photography
Son – 10-year-old Andrés – Westbrook
From fingerpainting as a toddler to watercolors, sketches, and photography, 10-year-old Andrés is a budding artist. Pieces today are a combination of works from his production at 5-7 years old to recent works influenced by life in DC: a night photograph at the Korean War Veterans Memorial and a sketch that he produced this Spring when the conflict in Ukraine began. Originally a large poster, it was reproduced as a postcard that was sold during a bake sale at Westbrook Elementary to raise funds for World Central Kitchen's work supporting Ukraine refugees. This is Andrés' second exhibit, with his first one being a collection of drawings on post-its he showcased at 3 years old in his dining room after visiting a museum with his parents, Mauricio, and Anabell.
"Andrés" by Mom –  Anabell Iglesias Chavarría in Westbrook
Anabell started writing poetry in high school at the Escuela Americana de El Salvador. She first shared her work at its Arts Festival when she was a junior in 1993 and then it went back to living only in her journals- until Salvadoran poet Maura Echeverría accepted reading them and took her on as a mentee in 2006. The poem here, "Andrés", was one of two pieces that Anabell showed Maura on their first encounter and which thankfully Maura liked enough to agree to work with her. She is grateful to Maura as a mentor and to Prof. Philip Pardi at Bard College for providing helpful pointers that allowed for the poem to be presented today in both English and its original Spanish. ¨Andrés¨ was written in 2002, 10 years before the birth of her son. It is presented at The Little Gallery in 2022, the year Andrés turns 10 years old. Anabell says she always knew she would have a son that would be named Andrés, and discovering his creative, curious, and resilient spirit has been her favorite adventure to date. ¨Andrés¨ is a piece on becoming a mother and of motherhood- even if that moment is still a dot in the distance.
November 27 – December 17, 2022
Pencil Drawings
Robert Burchard – Faraday Place
Robert Burchard lives on Faraday Place with his wife. He has 2 grown daughters that have flown the coop (at least for now!). The drawings in this exhibit were made when Robert took art classes as an undergrad at the University of Wisconsin. The person in the drawings is Glenn Gould, Robert's favorite classical pianist. The other is a copy of Van Gogh's Bedroom At Arles.
Though he has a life-long love of art (and art museums), this hobby has taken a back seat to work and family. With retirement on the horizon, Robert hopes to start drawing again, either in a class or on his own. Robert's only medium is pencil drawings, and he prefers to draw people.
Art runs in the family on both sides. His mom is a terrific artist, and on his Dad's side was a rather well known commercial artist named Gerd Grimm. Gerd's work can be found on the Grimm Foundation website.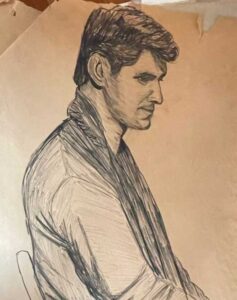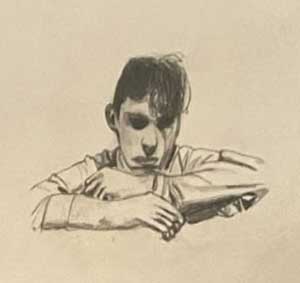 November 27 – December 17, 2022
Collage
Carolyn Morrow Long, Tenleytown
Carolyn Morrow Long has always been a practicing artist. After graduate school she moved to New York City and then to rural Middlebury, Vermont, where she made collages in her tiny apartment and made and taught pottery at the Frog Hollow Craft Center. After moving to DC in 1980, she worked for eighteen years as a conservator of paper artifacts and photographs at the Smithsonian's National Museum of American History. It was only after retiring in 2001 that she had time to pursue her own interests. Inspired by many visits to New Orleans, she has written three books about the history of the city, and has also returned to making collages. Many of the collages are inspired by New Orleans and its iconic characters. Since 2013 Carolyn has each year created a holiday card that always includes an image of her beloved cat Jacques. Her display at the Little Gallery features these holiday cards, which are for sale. If you are interested, connect with Carolyn by clicking the button below.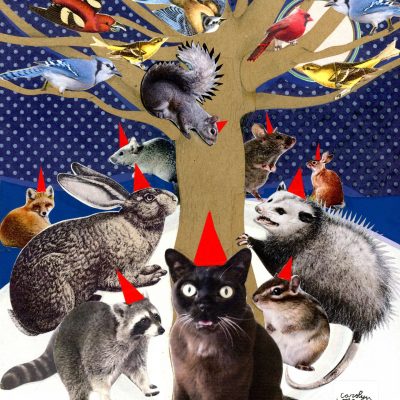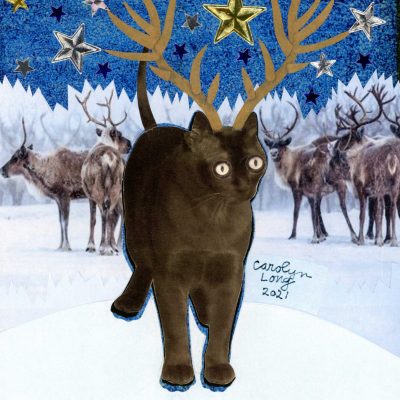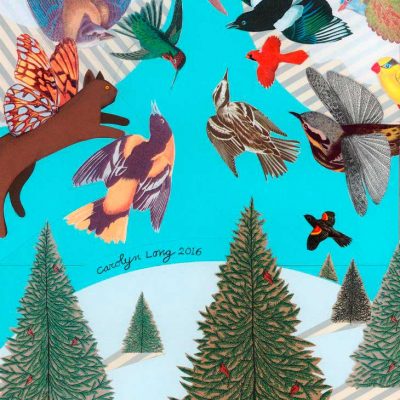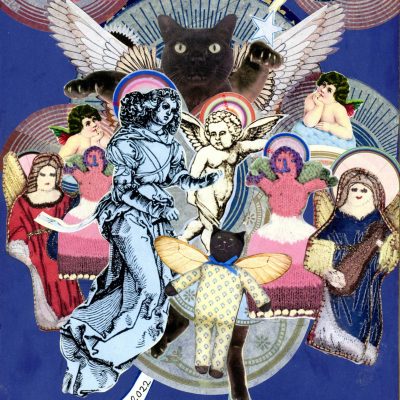 Childhood Memories in Embroidery
Ana Patiño – Faraday Pl.
My name is Ana Patiño and I'm from Mexico. I'm in a cultural exchange program as an Au Pair. I've been here for 2 years. I have an excellent relationship with my Host Family; they all are so warm and they have a special place in my heart. I chose embroidery because I love this kind of art expression. The process brings me peace and I feel passionate about it. These are some of my childhood memories of the cartoons that I used to watch with my family when I was a little girl. We had a lot of fun and good moments watching them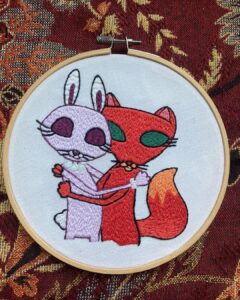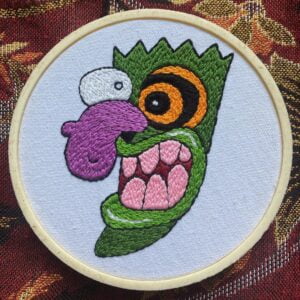 Original Art Inspired by Mary Oliver's Poetry
Martina Sestakova, Kensington MD
Martina Sestakova is a Kensington artist who is fascinated by words and their powerful imagery. For this exhibit, Martina enjoyed Mary Oliver's poem – "Wild Geese" – as inspiration for her visual explorations in acrylic inks on Yupo. Each artwork is a meditation on the perceived meaning of the title (a word taken out of the poem).
Press the audio button below to listen to Martina reading the poem for its overall message and then imagine how you would capture each selected word.
To learn more about Martina, click below to visit her website.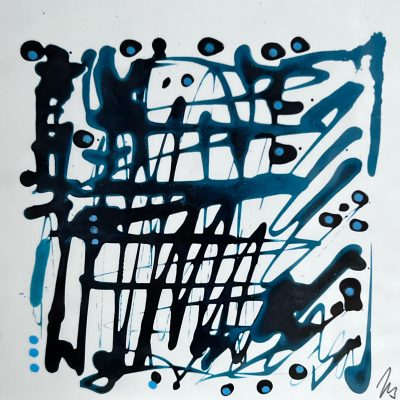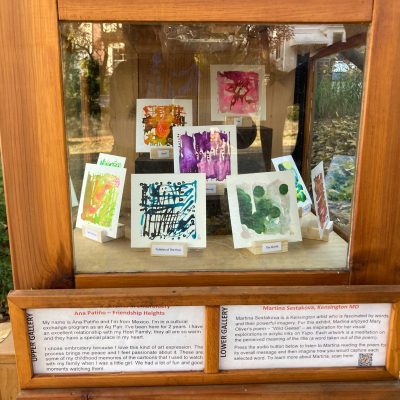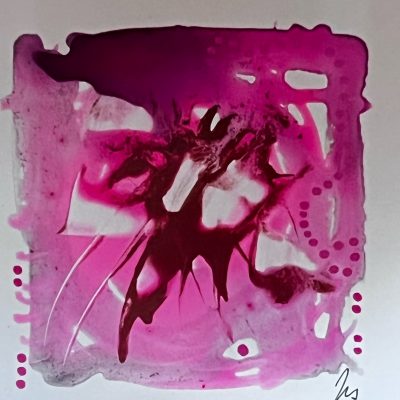 Wild Geese by Mary Oliver read by Martina Seskatova
October 15 – November 5, 2022
Water/Flower Arrangements: Sean Casey on Fessenden Street
Sean first saw this type of water/flower arrangements on a trip to Chanticleer Garden in Pennsylvania. He started doing his own during the pandemic as a treat for the people coming by the house for the weekly CSA pickup. He'd do a new arrangement each week, and when he wasn't inspired, neighbors Mandy, Coco and Max would fill in with their own designs. The Halloween display with boiling carbon dioxide is a little more lighthearted than what you'd see at Chanticleer.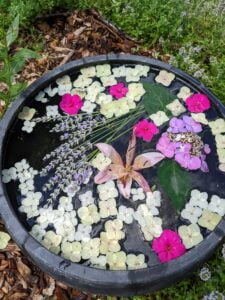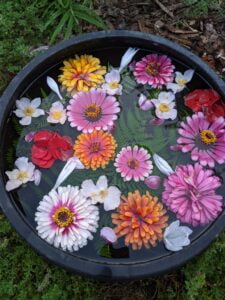 September 24 – October 15, 2022
Oil on Canvas: Marge Koblinsky on Fessenden Street
In the 1970s I traveled to Afghanistan to see the 6th Century AD Bamiyan Buddhas. The Buddha statue depicted here was about 180 ft high—about 18 stories high. A staircase up the side of the Buddha allowed you to climb to the top of the statue. And then you could be immersed in some of the earliest drying oil murals in the world. Here I depict two of the paintings on the ceiling above the statue. This magnificent statue and murals lay on the Silk Road.  One can hardly imagine how they were constructed way back when—now sadly, the original statues and murals no longer exist.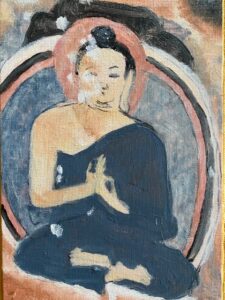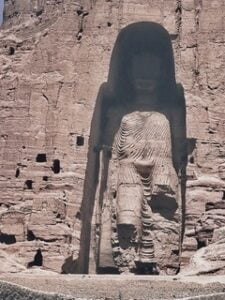 September 3 – 24, 2022
Bird Houses by Nancy Malan on Butterworth
I use the high-end table saw my father bought in 1952 to cut scrap wood into components of a birdhouse. My designs are based on samples found on Google, E-Bay,  Craigslist, with variations to make each house unique. I have yet to buy any lumber. The scraps I use are throwaways from construction sites, curbs, alleys, and neighbors emptying basements and garages. Most are oak, barn wood, cedar, ash, or a rare bit of chestnut.  Such gifts of nature deserve a fate better than landfill.
I know little about birds; I just love making houses for them. Figuring out how each birdhouse will look–dimensions, shape, kind of wood, finish–and how to put it together with glue, screws, nails, latches, and hinges, is a rewarding pastime on days when it is too hot or too cold for outdoor adventures. I find the combined use of brain and hands to be challenging and satisfying.
I have no website, no Facebook account, and no Tweets–just a cellphone number, 202-306-2300.  Text me if your homeless birds need accommodations. Prices range from forty to sixty-five dollars.
August 12 - September 3, 2022
Father and Daughter
Daniel and 7-year old Elise Abramoff in Friendship Heights
Elise and Daniel Abramoff are a father/daughter artist duo in Friendship Heights and have been making art together for over 5 years. Daniel has been painting for 15 years and is a self-taught abstract artist. When his daughter, Elise, was only 2-years-old she started becoming interested in painting and started creating an excellent selection of paintings and mix media art.
What motivates them to keep making art is the joy they receive when painting and using colors to express their imagination and overall feelings. 
July 24 - August 12, 2022
Blossoms, Buildings and Surroundings
Maria Morga on Ellicott Street
Maria can be seen walking her dogs Ella & Felix while checking out the wonderful architecture & gardens in our neighborhood. As a professional artist with studios here and in Aldi VA., Maria loves to create wonderful scenes in watercolor and acrylic. She welcomes painting commissions of homes, creating interior décor or teaching art. Many of her paintings become greeting cards that are available for sale. Contact Maria by clicking here:
July 2 – July 24, 2022
Mugs, Mushrooms and More: Betsy Edelmann on Fessenden
Mugs, Mushrooms and More: Betsy Edelmann on Fessenden Street
I returned to pottery during the pandemic after a 25-year break! Our cat wakes me up early and that's when I get to work. I am inspired by nature and thought a "Walk in the Woods" sounded like a nice theme for steamy July in Washington, DC.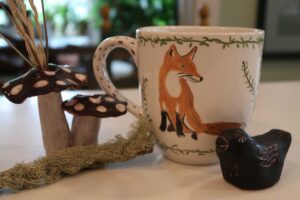 June 12 – July 2, 2022
Printed Patterns of Nature: Meg Greene from Tenleytown


Meg is a global health and gender equality researcher and casual potato and linoleum block printer. She takes delight in visual patterns that can be transformed by alternating colors, pigment density, image size, and so on. As Thelma the chicken illustrated so beautifully in her exhibit, with every iteration, something fresh can be created.
Meg loves writing letters, so most of her prints are done on card stock, so they can be shared and sent to others.
She is happy to be commissioned to carve or print new prints reflecting interest in specific images or colors. She can be contacted by clicking below.
May 21 – June 12, 2022
Thelma from Tenleytown
Fowl Art: Thelma from Tenleytown
Thelma is a 3-year old golden comet chicken who lives in Tenleytown.  In addition to her creative work, she enjoys laying eggs, visits from neighborhood children, and chasing crows.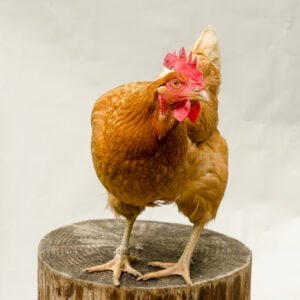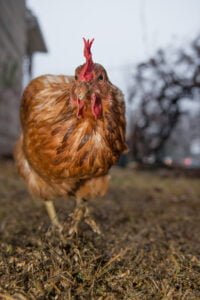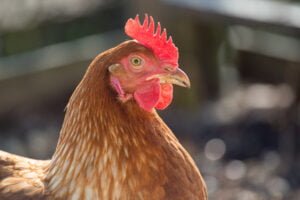 Thelma Inspired Limericks and Comments
April 9 – 30, 2022
Grandson and Grandmother
Graham Sczudlo and Deborah Sams on Burlington Pl.
Graham, who turned two years old on April 18, 2022, paints mostly in watercolor. He recently experimented with gouache at his satellite studio space, which his grandparents, Jaja (Ray) and Jinki (Deborah), set up for him at their house. Graham's abstract paintings have fresh color, shapes, and patterns.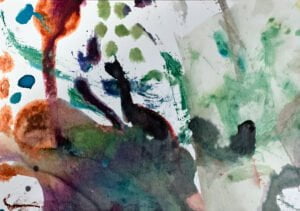 Deborah paints mostly from life. Her plein air work is inspired by the mountains of North Carolina, her home state, and pockets of city living in Washington and American University Park, where she and her husband Ray Sczudlo have lived since 2000.
Deborah works in oil with a painterly impressionistic style.  She mixes most of her colors with a limited palette, which includes a cool and a warm red, yellow, and blue.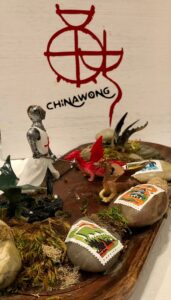 Stamp Art: David Wong on Harrison Street
David Wong is Chief Designer at ChinaWongArt.com which specializes in creating art pieces with stamps to highlight nature, history, and everyday life, including world events. David started stamp collecting at the age of nine. His craft uses discarded items and repurposes them to illustrate joy that can come out of pain and sorrow.
David's next art  exhibit will be at the Gaithersburg International Christian Fellowship Spring Festival (Gaithersburg, MD) on April 23. 
February 26 - March 20, 2022
power. beauty. social justice.
Shakti is a social venture with global reach that was founded by Mohini Malhotra on Ellicott Street. Shakti:
Curates art from women artists globally, with visual narratives of social justice and a just world 
Helps collectors get original and affordable art with a social narrative and purpose
Invests 100% profit in causes that help women and girls in DC and emerging markets better their lives (women's health access across Africa; college scholarships for DC students; girls' education in Nepal; legal services for immigrant women in DC as examples).
Shakti at The Little Gallery features works by 
SONAL VARSHNEYA. Agra, India.

Etching and Aquatint on paper
Sonal (b. 1985), MFA in print-making, Lalit Kala Sansthan, Agra, India 2007; BFA fine arts (with distinction), Dayal Bagh Educational University. She has participated in several solo and some 30 group exhibitions across India, China, Taiwan, Poland and Serbia since 2005, She has received numerous awards and recognition of her work – International Award at International Biennial Print Exhibition, Taiwan (2012); All India Women Contemporary Art Exhibition (2012), All India Fine arts & crafts society (2011), and more recently national awards in India. She's been referred to as the Engraver of a new Gender Mythology. She depicts goddesses as modern women and vice versa, weaving mythology and feminism with a quirky sense of humor.
February 4 – 24, 2022
Mother and Daughter
Bettina and Hazel Ammann on 45th street
I am a ceramic designer who moved to DC in late-2021.  When I move to a new place, ceramics are always what I come back to.   Ever different conditions, require that I change my way of working over and over again and do a lot of experimentation. Ceramics have also always helped me connect with new people.
With my organic objects, I focus on the beauty of small things like seeds, dried plants or weeds. These things are often found in places that we don't normally visit, or consider as beautiful. Most of the objects in the Little Gallery were found along busy streets or in trash dumps. I have turned them into porcelain treasures.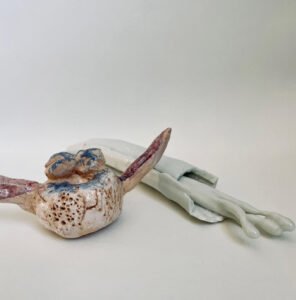 Hazel is 5 years old and loves crafts, in general. But, more than anything, she likes joining in when Bettina is working with clay. She started making ceramics from an early age. She likes to carefully observe her environment and then create her own world.
Her objects can be figures, water plants, precious stones and animals. 
January 9 – February 4, 2022
Sisters
Oil on canvas: Their Eyes Are Watching Us
Tatiana Belenkaya on Garrison St
Our father was an artist and taught us to paint.  In creating these pictures for the Little Gallery, I tried to capture beauty and innocence of animals in the habitat we share with them.  Each picture is of my fleeting encounter with these animals as I observed them and they observed me in December 2021.
my cat, Matilda by our house;
a deer, two ducks, and a blue heron on the Capital Crescent trail; and
a rooster at the National Gallery of Art.
I hope your fleeting encounter with these pictures brings you joy and encourages you to take actions to preserve our environment!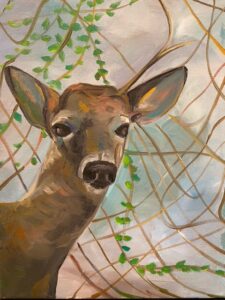 Ceramics: Svetlana Belenkaya, Rockville
This work is inspired by nature and by the countries where I have lived.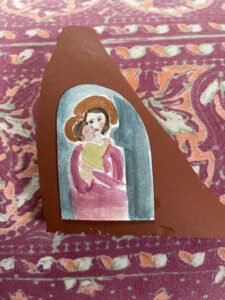 December 16, '21 - January 9, '22
Sacred Shards & Miscellany
Jane Varner Malhotra on Verplanck Street
I create relics from local salvaged pieces of something greater—for example, broken terra cotta tiles from the roof of historic Saint Elizabeths Government Hospital for the Insane, or a neighbor's old slate. The object is made sacred through loving artful attention, anointed with water and blessed with oil, bringing good energy to the one who treasures it.
I enjoy sketching, writing, teaching and learning. I have an interest in theology and spiritual practice. I care deeply about mental health and art as healing.
November 20 - December 16, 2021
Advent Calendar with Knitted Ornaments
Stacey Marien on Fessenden Street
For many years, my kids and I would make an advent calendar out of paper, paint and colored pencils. When my daughter went off to college, I decided to make her a calendar with knitted ornaments. Since I knit and don't sew, I enlisted the help of her stepmother, Beth to sew the calendar part. The one on display is what we made for my son when he went off to college. He is an avid basketball fan, so it was natural to have that as a theme. Each day is represented by the jersey of a professional player.
#1 – McGrady Tracy – Toronto Raptors
#2 – John Wall – Washington Wizards
#3 – Bradley Beal – Washington Wizards
#4 – Marcin Gortat – Washington Wizards
#5 – Kevin Garnett – Boston Celtics
#6 – Julius Erving – Philadelphia 76ers
#7 – Kevin Johnson – Phoenix Suns
#8 – Kobe Bryant – Los Angeles Lakers
#9 – Tony Parker – San Antonio Spurs
#10 – Walt Frazier – New York Knicks
#11 – John Wall – University of Kentucky
#12 – John Stockton – Utah Jazz
#13 – Wilt Chamberlain – Los Angeles Lakers
#14 – Oscar Robertson – Cincinnati Royals
#15 – Vince Carter – Toronto Raptors
#16 – Bob Lanier – Detroit Pistons
#17 – John Havlicek – Boston Celtics
#18 – Phil Jackson – New York Knicks
#19 – Willis Reed – New York Knicks
#20 – Gary Payton – Seattle SuperSonics
#21 – Tim Duncan – San Antonio Spurs
#22 – Clyde Drexler – Portland Trail Blazers
#23 – Michael Jordan – University of North Carolina
#24 – Rick Barry – Golden State Warriors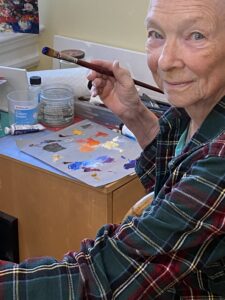 Oil on Canvas: Marge Koblinsky on Fessenden Street
I have wandered far afield—from the labs of hormone biochemistry in the 60's-70's, to health systems research to ensure the lives of mothers and newborns in SE Asia in the 80's-2000's, to being entranced with color on canvas in retirement. Homebound during Covid has only enhanced this focus on color—and the excitement of following the lead of artists such as Carla Rosenberg and Jane Wilson.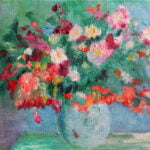 October 19 - November 2, 2021
Spooky Art: Arachna Potter somewhere in Tenleytown
Arachna Potter lives in an undisclosed location in Tenleytown. Her work is inspired by spooky things. She loves bats, cats and ghosts. Arachna hopes you enjoy her scary artwork. Thanks for visiting!!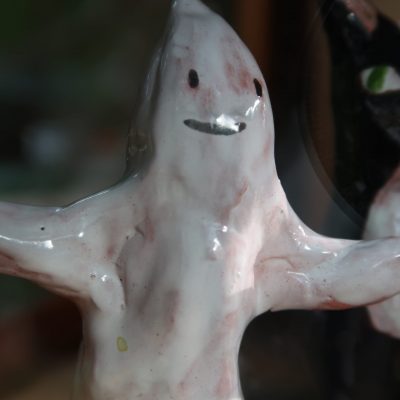 September 25 - October16, 2021
Stamp Art: David Wong on Harrison Street
David Wong started stamp collecting at the age of nine. To fund a middle school summer camp, he created a large collage of a Tiger from postage stamps and sold it to a mahjong-playing friend of his mother. David gets his inspiration from Isaiah 61:3 "Beauty for Ashes". His craft uses discarded items and repurposes them to illustrate joy that can come out of pain and sorrow. David honors his Chinese heritage and introduces his creative work as ChinaWongArt.
August 28 - September 25, 2021
Acrylic on Clayboard: Emily Attwell on Brandywine
I am a neighborhood piano teacher on Brandywine Street who paints and draws as time allows. When the pandemic dramatically affected my teaching schedule, I established a daily morning art practice for mental survival! My work often focuses on observed organic patterns and the natural world. Growing up amid the lush vegetation of the Texas Gulf Coast, I was raised to be passionate about plant life. But I also love to explore abstraction and find it connects quite naturally to my musical brain. You can see some of my art on Instagram. Much of it is for sale.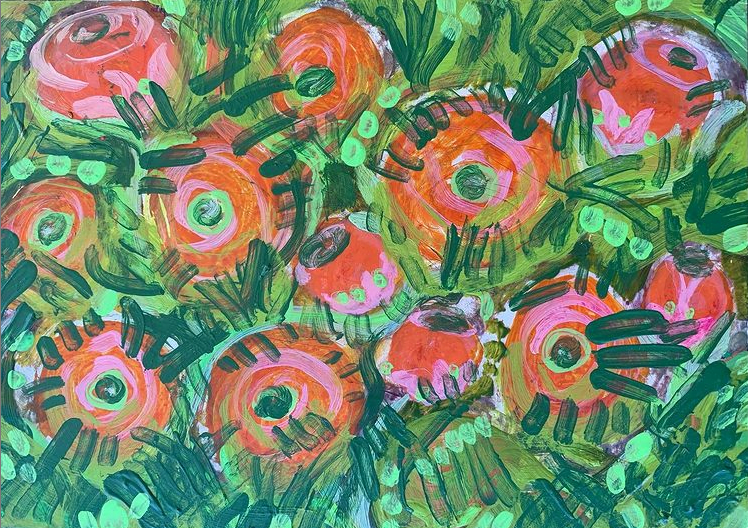 Crepe Paper Flowers: Cynthia on Faraday Street
I have been making paper flowers as gifts for friends and to keep me occupied and out of trouble during the pandemic.  Immersion in the detail work is therapeutic!  Some flowers are meant to be realistic (cosmos, poppies and tulips) and others ("Van Gogh" sunflowers) are a bit odd.  If you would like to commission a flower or two contact me below. Possibilities are not limited to the ones on display in The Little Gallery.
Ceramics: Betsy Edelmann on Fessenden Street
I have loved making pottery since my childhood in Northern California. Growing up with many pets and nature-loving parents, my creative inspiration has always been the natural world of animals, birds, and plants. During the pandemic, I found that pottery gave me hours of pleasure and inspiration. My creations are available for sale. Click below.