Childhood Memories in Embroidery
Ana Patiño – Faraday Pl.
My name is Ana Patiño and I'm from Mexico. I'm in a cultural exchange program as an Au Pair. I've been here for 2 years. I have an excellent relationship with my Host Family; they all are so warm and they have a special place in my heart. I chose embroidery because I love this kind of art expression. The process brings me peace and I feel passionate about it. These are some of my childhood memories of the cartoons that I used to watch with my family when I was a little girl. We had a lot of fun and good moments watching them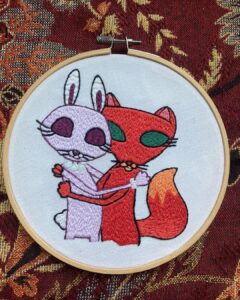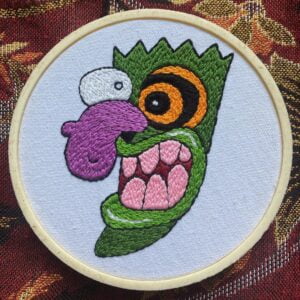 October 15 – November 5, 2022
Water/Flower Arrangements: Sean Casey on Fessenden Street
Sean first saw this type of water/flower arrangements on a trip to Chanticleer Garden in Pennsylvania. He started doing his own during the pandemic as a treat for the people coming by the house for the weekly CSA pickup. He'd do a new arrangement each week, and when he wasn't inspired, neighbors Mandy, Coco and Max would fill in with their own designs. The Halloween display with boiling carbon dioxide is a little more lighthearted than what you'd see at Chanticleer.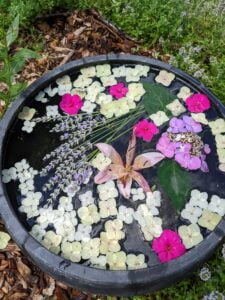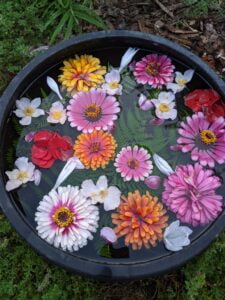 September 24 – October 15, 2022
Oil on Canvas: Marge Koblinsky on Fessenden Street
In the 1970s I traveled to Afghanistan to see the 6th Century AD Bamiyan Buddhas. The Buddha statue depicted here was about 180 ft high—about 18 stories high. A staircase up the side of the Buddha allowed you to climb to the top of the statue. And then you could be immersed in some of the earliest drying oil murals in the world. Here I depict two of the paintings on the ceiling above the statue. This magnificent statue and murals lay on the Silk Road.  One can hardly imagine how they were constructed way back when—now sadly, the original statues and murals no longer exist.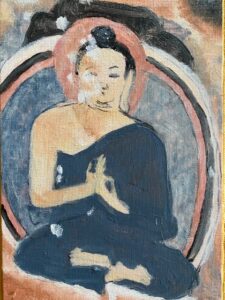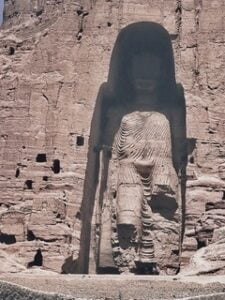 September 3 – 24, 2022
Bird Houses by Nancy Malan on Butterworth
I use the high-end table saw my father bought in 1952 to cut scrap wood into components of a birdhouse. My designs are based on samples found on Google, E-Bay,  Craigslist, with variations to make each house unique. I have yet to buy any lumber. The scraps I use are throwaways from construction sites, curbs, alleys, and neighbors emptying basements and garages. Most are oak, barn wood, cedar, ash, or a rare bit of chestnut.  Such gifts of nature deserve a fate better than landfill.
I know little about birds; I just love making houses for them. Figuring out how each birdhouse will look–dimensions, shape, kind of wood, finish–and how to put it together with glue, screws, nails, latches, and hinges, is a rewarding pastime on days when it is too hot or too cold for outdoor adventures. I find the combined use of brain and hands to be challenging and satisfying.
I have no website, no Facebook account, and no Tweets–just a cellphone number, 202-306-2300.  Text me if your homeless birds need accommodations. Prices range from forty to sixty-five dollars.
August 12 - September 3, 2022
Father and Daughter
Daniel and 7-year old Elise Abramoff in Friendship Heights
Elise and Daniel Abramoff are a father/daughter artist duo in Friendship Heights and have been making art together for over 5 years. Daniel has been painting for 15 years and is a self-taught abstract artist. When his daughter, Elise, was only 2-years-old she started becoming interested in painting and started creating an excellent selection of paintings and mix media art.
What motivates them to keep making art is the joy they receive when painting and using colors to express their imagination and overall feelings. 
July 24 - August 12, 2022
Blossoms, Buildings and Surroundings
Maria Morga on Ellicott Street
Maria can be seen walking her dogs Ella & Felix while checking out the wonderful architecture & gardens in our neighborhood. As a professional artist with studios here and in Aldi VA., Maria loves to create wonderful scenes in watercolor and acrylic. She welcomes painting commissions of homes, creating interior décor or teaching art. Many of her paintings become greeting cards that are available for sale. Contact Maria by clicking here:
July 2 – July 24, 2022
Mugs, Mushrooms and More: Betsy Edelmann on Fessenden
Mugs, Mushrooms and More: Betsy Edelmann on Fessenden Street
I returned to pottery during the pandemic after a 25-year break! Our cat wakes me up early and that's when I get to work. I am inspired by nature and thought a "Walk in the Woods" sounded like a nice theme for steamy July in Washington, DC.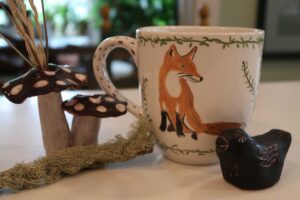 June 12 – July 2, 2022
Printed Patterns of Nature: Meg Greene from Tenleytown


Meg is a global health and gender equality researcher and casual potato and linoleum block printer. She takes delight in visual patterns that can be transformed by alternating colors, pigment density, image size, and so on. As Thelma the chicken illustrated so beautifully in her exhibit, with every iteration, something fresh can be created.
Meg loves writing letters, so most of her prints are done on card stock, so they can be shared and sent to others.
She is happy to be commissioned to carve or print new prints reflecting interest in specific images or colors. She can be contacted by clicking below.
May 21 – June 12, 2022
Thelma from Tenleytown
Fowl Art: Thelma from Tenleytown
Thelma is a 3-year old golden comet chicken who lives in Tenleytown.  In addition to her creative work, she enjoys laying eggs, visits from neighborhood children, and chasing crows.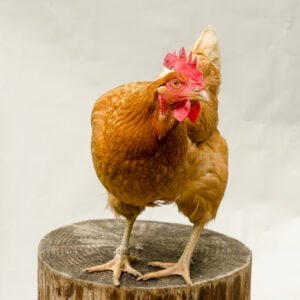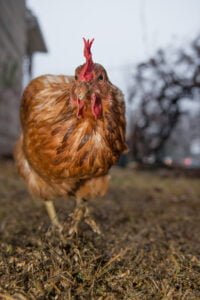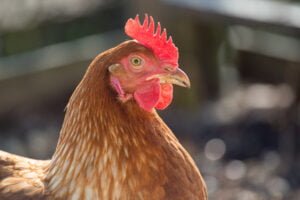 Thelma Inspired Limericks and Comments
April 9 – 30, 2022
Grandson and Grandmother
Graham Sczudlo and Deborah Sams on Burlington Pl.
Graham, who turned two years old on April 18, 2022, paints mostly in watercolor. He recently experimented with gouache at his satellite studio space, which his grandparents, Jaja (Ray) and Jinki (Deborah), set up for him at their house. Graham's abstract paintings have fresh color, shapes, and patterns.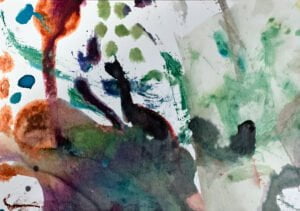 Deborah paints mostly from life. Her plein air work is inspired by the mountains of North Carolina, her home state, and pockets of city living in Washington and American University Park, where she and her husband Ray Sczudlo have lived since 2000.
Deborah works in oil with a painterly impressionistic style.  She mixes most of her colors with a limited palette, which includes a cool and a warm red, yellow, and blue.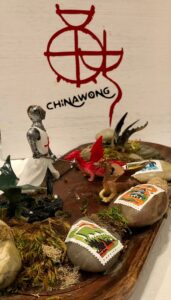 Stamp Art: David Wong on Harrison Street
David Wong is Chief Designer at ChinaWongArt.com which specializes in creating art pieces with stamps to highlight nature, history, and everyday life, including world events. David started stamp collecting at the age of nine. His craft uses discarded items and repurposes them to illustrate joy that can come out of pain and sorrow.
David's next art  exhibit will be at the Gaithersburg International Christian Fellowship Spring Festival (Gaithersburg, MD) on April 23. 
February 26 - March 20, 2022
power. beauty. social justice.
Shakti is a social venture with global reach that was founded by Mohini Malhotra on Ellicott Street. Shakti:
Curates art from women artists globally, with visual narratives of social justice and a just world 
Helps collectors get original and affordable art with a social narrative and purpose
Invests 100% profit in causes that help women and girls in DC and emerging markets better their lives (women's health access across Africa; college scholarships for DC students; girls' education in Nepal; legal services for immigrant women in DC as examples).
Shakti at The Little Gallery features works by 
SONAL VARSHNEYA. Agra, India.

Etching and Aquatint on paper
Sonal (b. 1985), MFA in print-making, Lalit Kala Sansthan, Agra, India 2007; BFA fine arts (with distinction), Dayal Bagh Educational University. She has participated in several solo and some 30 group exhibitions across India, China, Taiwan, Poland and Serbia since 2005, She has received numerous awards and recognition of her work – International Award at International Biennial Print Exhibition, Taiwan (2012); All India Women Contemporary Art Exhibition (2012), All India Fine arts & crafts society (2011), and more recently national awards in India. She's been referred to as the Engraver of a new Gender Mythology. She depicts goddesses as modern women and vice versa, weaving mythology and feminism with a quirky sense of humor.
February 4 – 24, 2022
Mother and Daughter
Bettina and Hazel Ammann on 45th street
I am a ceramic designer who moved to DC in late-2021.  When I move to a new place, ceramics are always what I come back to.   Ever different conditions, require that I change my way of working over and over again and do a lot of experimentation. Ceramics have also always helped me connect with new people.
With my organic objects, I focus on the beauty of small things like seeds, dried plants or weeds. These things are often found in places that we don't normally visit, or consider as beautiful. Most of the objects in the Little Gallery were found along busy streets or in trash dumps. I have turned them into porcelain treasures.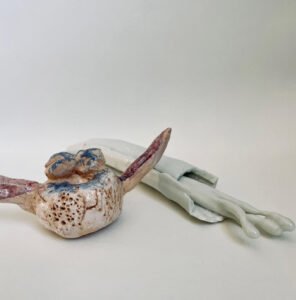 Hazel is 5 years old and loves crafts, in general. But, more than anything, she likes joining in when Bettina is working with clay. She started making ceramics from an early age. She likes to carefully observe her environment and then create her own world.
Her objects can be figures, water plants, precious stones and animals. 
January 9 – February 4, 2022
Sisters
Oil on canvas: Their Eyes Are Watching Us
Tatiana Belenkaya on Garrison St
Our father was an artist and taught us to paint.  In creating these pictures for the Little Gallery, I tried to capture beauty and innocence of animals in the habitat we share with them.  Each picture is of my fleeting encounter with these animals as I observed them and they observed me in December 2021.
my cat, Matilda by our house;
a deer, two ducks, and a blue heron on the Capital Crescent trail; and
a rooster at the National Gallery of Art.
I hope your fleeting encounter with these pictures brings you joy and encourages you to take actions to preserve our environment!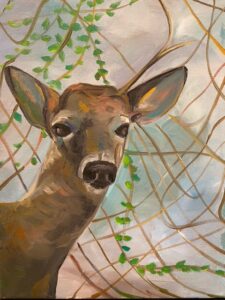 Ceramics: Svetlana Belenkaya, Rockville
This work is inspired by nature and by the countries where I have lived.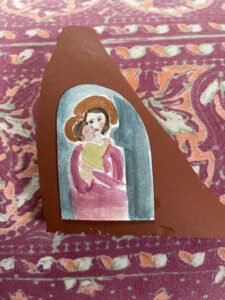 December 16, '21 - January 9, '22
Sacred Shards & Miscellany
Jane Varner Malhotra on Verplanck Street
I create relics from local salvaged pieces of something greater—for example, broken terra cotta tiles from the roof of historic Saint Elizabeths Government Hospital for the Insane, or a neighbor's old slate. The object is made sacred through loving artful attention, anointed with water and blessed with oil, bringing good energy to the one who treasures it.
I enjoy sketching, writing, teaching and learning. I have an interest in theology and spiritual practice. I care deeply about mental health and art as healing.
November 20 - December 16, 2021
Advent Calendar with Knitted Ornaments
Stacey Marien on Fessenden Street
For many years, my kids and I would make an advent calendar out of paper, paint and colored pencils. When my daughter went off to college, I decided to make her a calendar with knitted ornaments. Since I knit and don't sew, I enlisted the help of her stepmother, Beth to sew the calendar part. The one on display is what we made for my son when he went off to college. He is an avid basketball fan, so it was natural to have that as a theme. Each day is represented by the jersey of a professional player.
#1 – McGrady Tracy – Toronto Raptors
#2 – John Wall – Washington Wizards
#3 – Bradley Beal – Washington Wizards
#4 – Marcin Gortat – Washington Wizards
#5 – Kevin Garnett – Boston Celtics
#6 – Julius Erving – Philadelphia 76ers
#7 – Kevin Johnson – Phoenix Suns
#8 – Kobe Bryant – Los Angeles Lakers
#9 – Tony Parker – San Antonio Spurs
#10 – Walt Frazier – New York Knicks
#11 – John Wall – University of Kentucky
#12 – John Stockton – Utah Jazz
#13 – Wilt Chamberlain – Los Angeles Lakers
#14 – Oscar Robertson – Cincinnati Royals
#15 – Vince Carter – Toronto Raptors
#16 – Bob Lanier – Detroit Pistons
#17 – John Havlicek – Boston Celtics
#18 – Phil Jackson – New York Knicks
#19 – Willis Reed – New York Knicks
#20 – Gary Payton – Seattle SuperSonics
#21 – Tim Duncan – San Antonio Spurs
#22 – Clyde Drexler – Portland Trail Blazers
#23 – Michael Jordan – University of North Carolina
#24 – Rick Barry – Golden State Warriors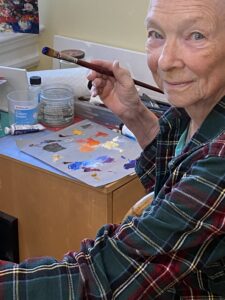 Oil on Canvas: Marge Koblinsky on Fessenden Street
I have wandered far afield—from the labs of hormone biochemistry in the 60's-70's, to health systems research to ensure the lives of mothers and newborns in SE Asia in the 80's-2000's, to being entranced with color on canvas in retirement. Homebound during Covid has only enhanced this focus on color—and the excitement of following the lead of artists such as Carla Rosenberg and Jane Wilson.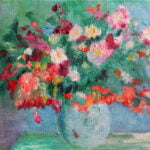 October 19 - November 2, 2021
Spooky Art: Arachna Potter somewhere in Tenleytown
Arachna Potter lives in an undisclosed location in Tenleytown. Her work is inspired by spooky things. She loves bats, cats and ghosts. Arachna hopes you enjoy her scary artwork. Thanks for visiting!!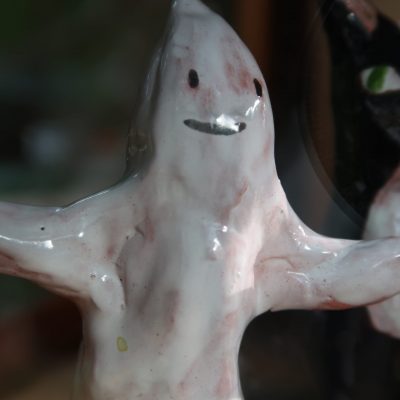 September 25 - October16, 2021
Stamp Art: David Wong on Harrison Street
David Wong started stamp collecting at the age of nine. To fund a middle school summer camp, he created a large collage of a Tiger from postage stamps and sold it to a mahjong-playing friend of his mother. David gets his inspiration from Isaiah 61:3 "Beauty for Ashes". His craft uses discarded items and repurposes them to illustrate joy that can come out of pain and sorrow. David honors his Chinese heritage and introduces his creative work as ChinaWongArt.
August 28 - September 25, 2021
Acrylic on Clayboard: Emily Attwell on Brandywine
I am a neighborhood piano teacher on Brandywine Street who paints and draws as time allows. When the pandemic dramatically affected my teaching schedule, I established a daily morning art practice for mental survival! My work often focuses on observed organic patterns and the natural world. Growing up amid the lush vegetation of the Texas Gulf Coast, I was raised to be passionate about plant life. But I also love to explore abstraction and find it connects quite naturally to my musical brain. You can see some of my art on Instagram. Much of it is for sale.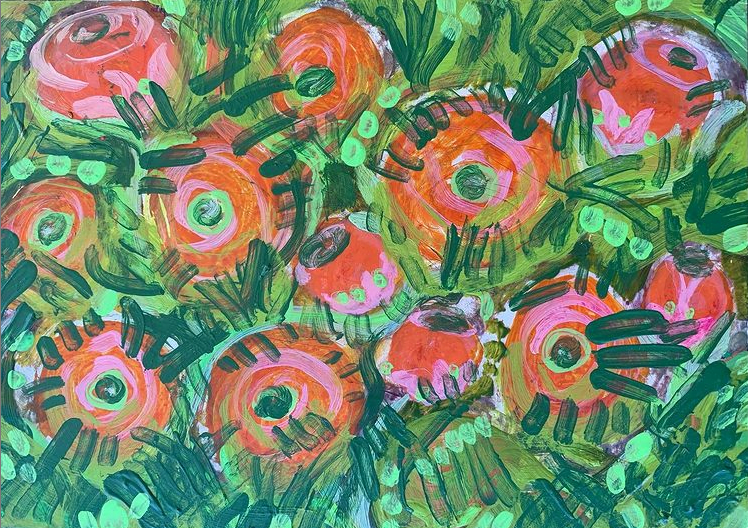 Crepe Paper Flowers: Cynthia on Faraday Street
I have been making paper flowers as gifts for friends and to keep me occupied and out of trouble during the pandemic.  Immersion in the detail work is therapeutic!  Some flowers are meant to be realistic (cosmos, poppies and tulips) and others ("Van Gogh" sunflowers) are a bit odd.  If you would like to commission a flower or two contact me below. Possibilities are not limited to the ones on display in The Little Gallery.
Ceramics: Betsy Edelmann on Fessenden Street
I have loved making pottery since my childhood in Northern California. Growing up with many pets and nature-loving parents, my creative inspiration has always been the natural world of animals, birds, and plants. During the pandemic, I found that pottery gave me hours of pleasure and inspiration. My creations are available for sale. Click below.