Celebrating Creativity
in the Neighborhood
Sculpture
Elizabeth Ashe – sculptor and poet
Elizabeth Ashe is a sculptor and poet, who earned her MFA from the Mount Royal School of Art at the Maryland Institute College of Art, and an MFA in creative writing from Chatham University. Her public art projects have recently been on view at Canal Park for the National Cherry Blossom Festival and several Art All Night DC locations. Ashe's poetry has appeared in Bourgeon, Tribes, Yellow Medicine Review, Vagabondage, and Badlands Literary Journal, among many others, and art reviews in Artscope Magazine, the Washington Diplomat, and upcoming in Art Lantern. Her work is included in Studio Visit Magazine, issue 46.
Ashe has received several grants from the DC Commission on the Arts and Humanities for curatorial projects and her studio practice. She and two artists were interviewed on the Kojo Nnamdi Show in August of 2019 for "Play, Protection, or Peril," an exhibit that addressed gun violence in our culture. Ashe is a board member of the Washington Sculptors Group, and serves on the Tenleytown Public Art Sub-Committee. Ashe lives in Washington, D.C., where she has an active studio practice. She is the Exhibit and Event Technician at the Katzen Center, American University.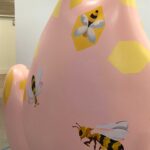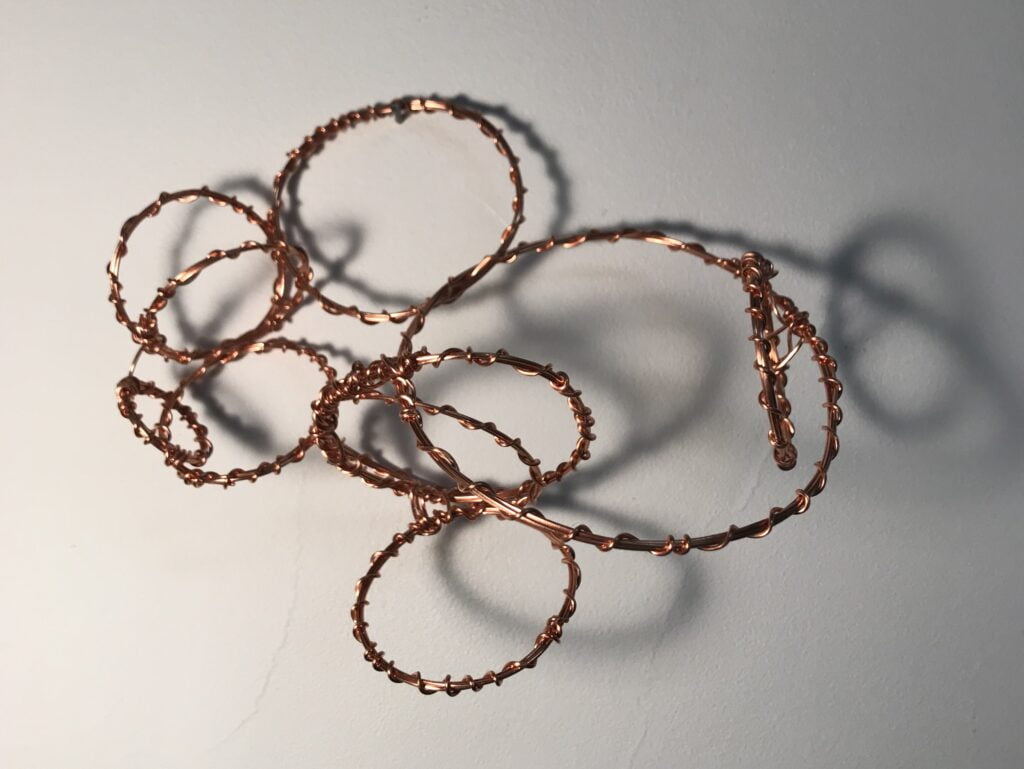 I began playing with copper wire when I was young. I love its flexibility, visual warmth, and patina. In the "Playgrounds" series, I began using copper wire in a new way – basing organic shapes off the proportions of wrapping wire around my hands – and using the wire as a maquette view for working larger. I enjoy playing with them, setting them in new places and orientations, and how the circles, shadows and connection lines talk to one another. The conversation within each piece, reminds me of how we speak and tell stories, especially how children ask questions. While the series has taken the dimensions leap of a few inches to several feet, I still love the intimacy and wonder of these small sculptures.
Original Song: "The Last Trip of Summer"
Ellie Imani – SE Washington DC
Creating is a necessary function of being alive. I cannot express how imperative it is to breathe this way, lest I feel buried alive in every day's sediment. I'm a visual artist, writer, and singer because I have to be. To divorce myself from any of these mediums is to commit an egregious act of self-harm. I love to share my work because art generally permeates normal social boundaries and speaks the unspoken. I hope that you find resonance with my work the way that I find resonance in your smiles and sorrow.
The Last Trip of Summer is about prioritizing yourself over relationships that threaten to drag you away from the core of your being. It is about establishing healthy boundaries and loving yourself completely, sans toxicity.
Little Gallery is looking for kid and audio exhibitors
Who knew that there were so many shy people out there?
If you are proud of a painting, drawing, song, poem, very short story, or comedy routine that you've created, why not share it with our supportive community? Anything, so long as it's in good taste, is acceptable.
Don't be shy! Email sid@littlegallery.org to sign up.