Celebrating Creativity
in the Neighborhood
Upper Gallery
Bird Houses by Nancy Malan on Butterworth
I use the high-end table saw my father bought in 1952 to cut scrap wood into components of a birdhouse. My designs are based on samples found on Google, E-Bay,  Craigslist, with variations to make each house unique. I have yet to buy any lumber. The scraps I use are throwaways from construction sites, curbs, alleys, and neighbors emptying basements and garages. Most are oak, barn wood, cedar, ash, or a rare bit of chestnut.  Such gifts of nature deserve a fate better than landfill.
I know little about birds; I just love making houses for them. Figuring out how each birdhouse will look–dimensions, shape, kind of wood, finish–and how to put it together with glue, screws, nails, latches, and hinges, is a rewarding pastime on days when it is too hot or too cold for outdoor adventures. I find the combined use of brain and hands to be challenging and satisfying.
I have no website, no Facebook account, and no Tweets–just a cellphone number, 202-306-2300.  Text me if your homeless birds need accommodations. Prices range from forty to sixty-five dollars.
Lower Gallery
Jewelry: 12-year old Leah in Tenleytown
Leah is 12 year old girl who moved to DC at the beginning of this year. Leah enjoys wearing and making jewelry, especially rings and bracelets. She has been making jewelry for about a year, using wire and beads. Recently she participated in a workshop and discovered glass as a new material for making jewelry. 
Leah loves the idea of the Little Gallery and wants more people to enjoy making jewelry. Hopefully, the displayed jewelry will be an inspiration for others.
When Leah isn't making jewelry, she enjoys crafting and gymnastics.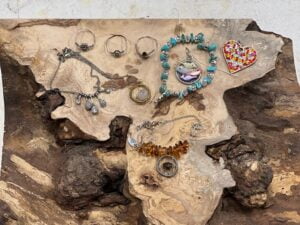 Original Song = "Lessons Earned" Nathan Edelmann on Fessenden St.
Nathan has been writing songs since he was three years old. His earliest songs were about broken hearts and lost loves! Over the years his passion for  playing music – guitar and piano – has continued.  This song  was written this summer while Nathan was living in New York City and preparing for grad school in the fall. 
Nathan does not release a lot of his songs. Let him know what you think. 
Little Gallery is looking for kid and audio exhibitors
Who knew that there were so many shy people out there?
If you are proud of a painting, drawing, song, poem, very short story, or comedy routine that you've created, why not share it with our supportive community? Anything, so long as it's in good taste, is acceptable.
Don't be shy! Email sid@littlegallery.org to sign up.