Celebrating Creativity
in the Neighborhood
Mugs, Mushrooms and More: Betsy Edelmann on Fessenden Street
I returned to pottery during the pandemic after a 25-year break! Our cat wakes me up early and that's when I get to work. I am inspired by nature and thought a "Walk in the Woods" sounded like a nice theme for steamy July in Washington, DC.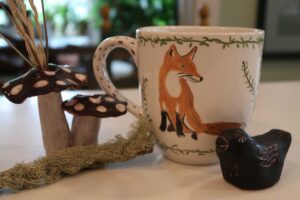 Harry Potter Portraits: Lena in Tenleytown
Ever since 9-year-old Lena read the first book of the Harry Potter series, she's been sketching with pencil and painting with watercolor her favorite characters. Lena's made 14 paintings so far and is continuing to read the series. She hopes you enjoy her paintings!  
Seasons in a Day by the Okee Dokee Brothers Michael (guitar and vocals) and Deb Friedman (violin and vocals) on 44th street
Music has connected Deb and Michael since their earliest dates when they sat around in their respective Logan Circle and Dupont apartments working out vocal harmonies for favorite folk tunes. These days, their music playing often takes the back burner to life's many other activities, save for the occasional song for a friend or family member's wedding, or a brief family sing-along. They are grateful to Sid and the Little Gallery for giving them a great reason to play together again.
Michael and Deb live nearby with their two young boys, Max (an early Little Gallery Artist) and Noah (a future Little Gallery artist). They have promised Sid that their next recording will feature Max and Noah on backup vocals.
Michael and Deb are performing Seasons in a Day by the Okee Dokee brothers, a favorite children's folk band in their home. In this arrangement, Michael is on guitar and vocals and Deb is playing violin and vocals.