Celebrating Creativity
in the Neighborhood
Pencil Drawings
Robert Burchard – Faraday Place
Robert Burchard lives on Faraday Place with his wife. He has 2 grown daughters that have flown the coop (at least for now!). The drawings in this exhibit were made when Robert took art classes as an undergrad at the University of Wisconsin. The person in the drawings is Glenn Gould, Robert's favorite classical pianist. The other is a copy of Van Gogh's Bedroom At Arles.
Though he has a life-long love of art (and art museums), this hobby has taken a back seat to work and family. With retirement on the horizon, Robert hopes to start drawing again, either in a class or on his own. Robert's only medium is pencil drawings, and he prefers to draw people.
Art runs in the family on both sides. His mom is a terrific artist, and on his Dad's side was a rather well known commercial artist named Gerd Grimm. Gerd's work can be found on the Grimm Foundation website.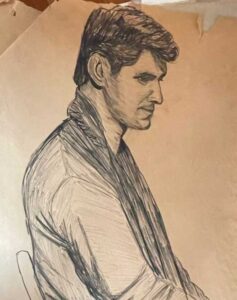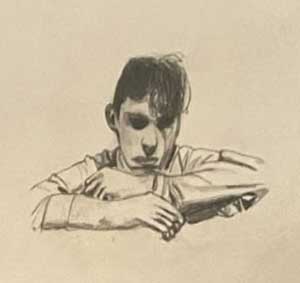 Collage
Carolyn Morrow Long, Tenleytown
Carolyn Morrow Long has always been a practicing artist. After graduate school she moved to New York City and then to rural Middlebury, Vermont, where she made collages in her tiny apartment and made and taught pottery at the Frog Hollow Craft Center. After moving to DC in 1980, she worked for eighteen years as a conservator of paper artifacts and photographs at the Smithsonian's National Museum of American History. It was only after retiring in 2001 that she had time to pursue her own interests. Inspired by many visits to New Orleans, she has written three books about the history of the city, and has also returned to making collages. Many of the collages are inspired by New Orleans and its iconic characters. Since 2013 Carolyn has each year created a holiday card that always includes an image of her beloved cat Jacques. Her display at the Little Gallery features these holiday cards, which are for sale. If you are interested, connect with Carolyn by clicking the button below.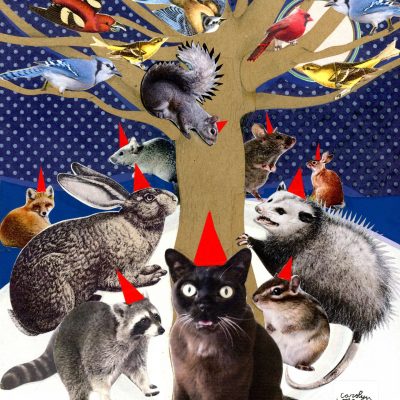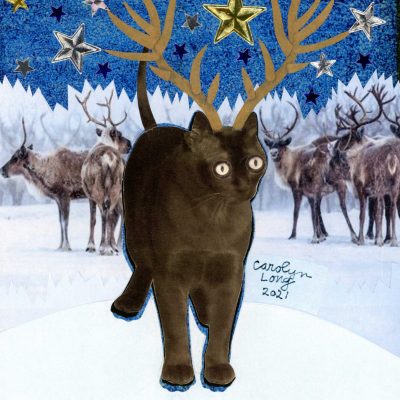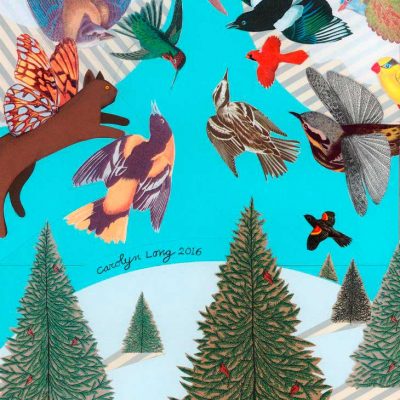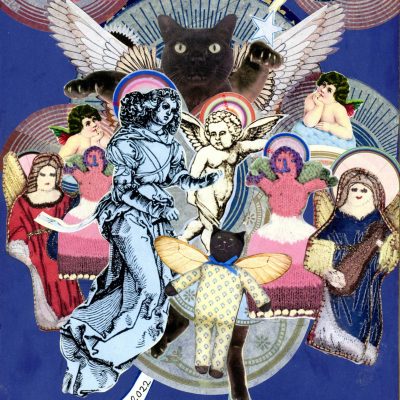 "Why I am not a Painter" by Frank O'Hara
Read by Claire Pettengill in Woodley Park
Claire Pettengill has loved poetry since she was a very small person. When she grew up, she was delighted to find that she could have a career teaching literature. She loves introducing her students to all kinds of poetry, and even more, hearing about poets they love. Claire only recently stumbled across Frank O'Hara; she admires the way he can, in a single poem, sound casual, funny, and dead serious, all at the same time, as in  his poem, "Why I am not a Painter."


When Claire was in college, she started and then abandoned the following poetic fragment about a lost friend, which O'Hara's poem helped her remember.



I long to write a poem in your name,
to touch once more your soft brown hair and see your gentle eyes
that speak as rivers speak for one who dies…


Oh, If I could but speak, and be wise!
Little Gallery is looking for kid and audio exhibitors
Who knew that there were so many shy people out there?
If you are proud of a painting, drawing, song, poem, very short story, or comedy routine that you've created, why not share it with our supportive community? Anything, so long as it's in good taste, is acceptable.
Don't be shy! Email sid@littlegallery.org to sign up.