May 27 – July 21, 2023
Country Road
Phoenix and her dad Doug, from Friendship Heights
One day, while walking home from kindergarten, I noticed Phoenix was singing a song under her breath. She was on my shoulders and as we walked down the street she half-sung, half whispered a song I knew but hadn't given much thought to over the years.
Her teacher had taught her the song in class and I heard it a lot from that point on. It took the rendition of a five year old to give me an appreciation of a song which I now love. That song is Country Road by John Denver. Recently, we decided to record our version of it. We both sing and I play guitar and piano. We hope you enjoy it.
May 8 -27, 2023
Bluegrass
Tom Lalley (aka: Jane's dad) from Yuma Streetnleytown
Hollertown is a DC-based band that has been playing old time and bluegrass music for nearly 20 years. Its roots go back to 2005, when Nick Backer (mandolin) and Chuck Andreatta (banjo) joined a band called the Woedoggies. The lineup today includes Tom Lalley on guitar and vocals, fiddler Lee Benaka, bassist Jerry Del Rosso, and vocalist Belen Pifel.
Hollertown has always been about having fun and finding those moments when all you hear is the music and everything seems alright in the world. The band plays live every month or two at local bars like the now-closed Argonaut and the Quarry House in Silver Spring, on stages like Pearl Street Warehouse at the Wharf, and at local festivals like Petworth Porchfest and the Kingman Island Bluegrass Festival.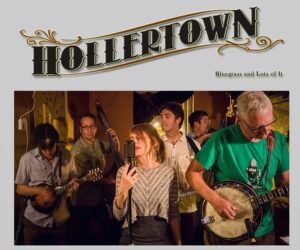 Nail that Catfish to a Tree – This is a song by Steve Rosen

, a musician from Chicago.  Hollertown's fiddler, Lee Benaka, used to take lessons from him. It's one of those fun happy songs that could go on forever.

Freedom – This is an original tune written by our mandolin player, Nick Backer. It's about the Underground Railroad and the lyrics are an homage to the heroic journeys of the travelers and the heroes along the way.

Greasy Coat – This is a traditional song. As far as I know, its author is unknown. It falls into the category of "Old Time," which is a bit of a catch all for old folk music that sounds a bit like bluegrass but precedes that genre by decades or perhaps even centuries.
April 17 – May 8, 2023
Flute Composition
Olivia from around the neighborhood
12-year-old Olivia is a talented painter and musician. She most recently exhibited a water-based color painting in December 2021. Olivia began playing the flute about a year ago and is in her school band. One of the biggest fans of Olivia's music is her grandmother.  She hopes you enjoy it too.
March 25 – April 17, 2023
Red Leaf 
A Poem by Lynne Heneson in Cathedral Heights
Lynne Heneson is a retired speechwriter who is devoting her retirement to learning, creation, and travel. Born in Baltimore, she has lived in DC since 1975. She admires many poets, including Frank O'Hara, Han Kang, Charles Simic, and more. She is honored to be included among the artists in the Little Gallery on Fessenden.
Original Song: "It Only Takes One"
Edith is a musician and poet based in Washington, DC.She is 8 years old. 
February 8 - March 4, 2023
Original Song: "Sarah"
Nathan Edelmann – Fessenden St
Nathan has been writing songs since he was three years old. His earliest songs were about broken hearts and lost loves! Over the years his passion for playing music – guitar and piano – has continued. This song was written while Nathan was studying at Oberlin College.
Nathan does not release a lot of his songs. Let him know what you think.
January 12 - February 8, 2023
Original Song: "The Last Trip of Summer"
Ellie Imani – SE Washington DC
---
Creating is a necessary function of being alive. I cannot express how imperative it is to breathe this way, lest I feel buried alive in every day's sediment. I'm a visual artist, writer, and singer because I have to be. To divorce myself from any of these mediums is to commit an egregious act of self-harm. I love to share my work because art generally permeates normal social boundaries and speaks the unspoken. I hope that you find resonance with my work the way that I find resonance in your smiles and sorrow.
The Last Trip of Summer is about prioritizing yourself over relationships that threaten to drag you away from the core of your being. It is about establishing healthy boundaries and loving yourself completely, sans toxicity.
November 27 - December 17, 2022
"Why I am not a Painter" by Frank O'Hara
Read by Claire Pettengill in Woodley Park
Claire Pettengill has loved poetry since she was a very small person. When she grew up, she was delighted to find that she could have a career teaching literature. She loves introducing her students to all kinds of poetry, and even more, hearing about poets they love. Claire only recently stumbled across Frank O'Hara; she admires the way he can, in a single poem, sound casual, funny, and dead serious, all at the same time, as in  his poem, "Why I am not a Painter."


When Claire was in college, she started and then abandoned the following poetic fragment about a lost friend, which O'Hara's poem helped her remember.



I long to write a poem in your name,
to touch once more your soft brown hair and see your gentle eyes
that speak as rivers speak for one who dies…


Oh, If I could but speak, and be wise!
October 15 - November 5, 2022
Haunted Music: Dr. A. Cula, age 590 in a coffin near you
Dr. A. Cula recently arrived in AU Park. When he is not drinking blood, he studies music that instills horror, intrigue and suspense. Drip, drip, drip, squeak, creak. SCREAM!
August 12 - September 3, 2022
Original Song = "Lessons Earned"
Nathan Edelmann on Fessenden St.
Nathan has been writing songs since he was three years old. His earliest songs were about broken hearts and lost loves! Over the years his passion for  playing music – guitar and piano – has continued.  This song  was written this summer while Nathan was living in New York City and preparing for grad school in the fall. 
Nathan does not release a lot of his songs. Let him know what you think. 
Seasons in a Day by the Okee Dokee Brothers Michael (guitar and vocals) and Deb Friedman (violin and vocals) on 44th street
Music has connected Deb and Michael since their earliest dates when they sat around in their respective Logan Circle and Dupont apartments working out vocal harmonies for favorite folk tunes. These days, their music playing often takes the back burner to life's many other activities, save for the occasional song for a friend or family member's wedding, or a brief family sing-along. They are grateful to Sid and the Little Gallery for giving them a great reason to play together again.
Michael and Deb live nearby with their two young boys, Max (an early Little Gallery Artist) and Noah (a future Little Gallery artist). They have promised Sid that their next recording will feature Max and Noah on backup vocals.
Michael and Deb are performing Seasons in a Day by the Okee Dokee brothers, a favorite children's folk band in their home. In this arrangement, Michael is on guitar and vocals and Deb is playing violin and vocals.
Native American Flute Music
Paul Bennett from Bethesda
A few years ago, deep in the altered space of a spiritual retreat, I found myself making a promise to two women I had loved profoundly and lost in 2002: my mother and my wife Bonnie.
My promise was to play music in places that they loved. Yet I had not played any musical instrument in forty years, since I abandoned the violin as a teenager.
A few months later, I was in Santa Fe, at Native Sounds, a music store where Sky Redhawk sells an array of Native American flutes. Remembering my promise to Mom and Bonnie, I bought my first flute. Sky sent me off with just two instructions:
"First, you learn to play a scale." He demonstrated.
"Then you find your song."
While Strolling Through The Park One Day on Ukulele
Betsy Paull on 44th Street
Betsy, a lifelong Tenleytown resident, sings and plays ukulele for the fun of it.  This "performance" is in celebration of May, the most beautiful month, and includes a twist that she hopes gets some giggles from our neighborhood's kids.
October Waltz: Ian Warrington on River Road
I have played the violin since I was six years old, but I didn't start writing and recording my own songs until a few years ago.  This tune is in the style of the Scottish and Irish fiddle tunes I played as a kid.  
I'm an emergency room doctor, and music has been a great way to decompress between shifts during a challenging time.  During the initial COVID lockdown in 2020 I was inspired by Yo Yo Ma's living room concerts – his "songs of comfort" on social media.  So I decided to start sharing my own music. I may not be a world class musician, but I enjoy playing music, and it's nice to have a way to share it. You can check out my daily music on Instagram or other recordings on my website.  
February 26 - March 20, 2022
Great Wave Off Kanagawa: A poem by 16-year old Alexandre Hurst on Fessenden St.
My curiosity for poetry piqued when I took my first creative writing class in ninth grade. I wrote my first poem after I was inspired by the famous painting "Great Wave off Kanagawa" in Hoksuai's "36 views of Mount Fuji" painting series.
My current goal is to write enough poetry to eventually create a book. Starting with the early poems I've written and ending in my latest poem. As a collection, this book tells the story of my inspiration as a poet and the meanings I intend through my writing.
My philosophy when it comes to writing my poetry is that it doesn't matter if I put five minutes into it, or five hours. If it comes out well, and is beautiful, then it is a good use of my time to have created that piece of poetry and the emotions and feelings I can communicate through them. I make poetry for the artistic value of it.
Bird Sounds: Cardinal, Crow, Duck, Eagle, Goose, Owl, Parrot, Peacock, Seagull, Sparrow, Woodpecker
Little Gallery did not have anyone for the Audio Gallery, so these birds  went out on a limb and recorded their voices. We hope to find others who will rise to the occasion in the future.  
January 10 - February 4, 2022
Untitled: A Poem by Nathan Edelmann on Fessenden Street
I studied math and physics and will be pursuing a masters in engineering in the fall.  I love to spend my free time singing, playing piano and guitar and writing poems and songs.  I am inspired by many musicians and the life around me. This is a poem, that I wrote on a rainy day, and it resonates with me today. I hope you like it.  
December 16, '21 - January 9, '22
Song for Mark: Emily Attwell on Brandywine
I am a Tenleytown piano teacher and painter who has previously shown artwork in this most wonderful of venues. I wrote this song for my dear friend Mark, a longtime neighbor, piano parent, and beloved friend. The music came to me after I heard of his glioblastoma diagnosis. I was feeling his love of Sondheim, Funny Girl, Tootsie, and the Sound of Music as the urge to give him a song welled up inside me. He left us in November, and we who knew and loved him are grateful beyond words for his presence in our lives, but also in deep mourning. I treasure the tearful moment of joy this song gave him on his last birthday on earth.
November 20 - December 16, 2021
Let it Snow on Ukulele: Betsy Paull on 44th Street
Pre-pandemic, I was singing a with a group of fellow elders once a week at Chevy Chase Community Center.  We now sing every Monday for an hour on Zoom with our wonderful volunteer leader who emails the lyrics to familiar, favorite tunes and provides keyboard accompaniment.  This practice has reminded me how much I love to sing, and frankly, encourages me to sing as if no one is listening, to belt it out and feel good about it. Singing can help you find your happy place!  (So can dancing as if no one is watching, by the way…but you probably know that.)
Poems: Heather Davis on River Road
Heather Davis is a poet, mom, and worker. She lives in a cute little apartment with her husband and two kids on River Road. Her husband is also a poet. She likes words and coffee and metaphors that wake up your brain. She is excited to be in the Little Gallery on Fessenden. 
Heather has shared three poems with Little Gallery and has published a book of poetry. Her poem "Houses" appeared in the summer 2021 issue of ASP Bulletin. Click below to contact Heather and to learn more about her book. 
October 19 - November 2, 2021
Haunted Music: Dr. A. Cula, age 590 in a coffin near you
Dr. A. Cula recently arrived in AU Park. When he is not drinking blood, he studies music that instills horror, intrigue and suspense. Drip, drip, drip, squeak, creak. SCREAM!
September 25 - October 15, 2021
Jokes: Max, age 6 on Fessenden Street
Max, age six, lives on Fessenden street. He is so happy to be back at school and seeing all the kids in the neighborhood. If you are lucky, he will tell you a joke when he sees you. But if you miss him, here are some of his favorite jokes!
August 28 - September 25, 2021
Irrational: A poem by Alexandre Hurst on Fessenden
Alexandre, 15, enjoys writing poetry based on life, beauty and challenges. He is involved in the LGBT movement.
Pockets of Change - Lee Feinberg
Pockets of Change: By Lee Feinberg on Fessenden Street
Lee has been playing, writing and recording music for several decades.  He currently plays in two DC bands: the Allman Others and Honeyfunk. 
This song Pockets Full of Change he wrote after visiting Czechoslovakia a week before the Iron Curtain fell there.  During that visit, Lee met a Refusenik who was also a political cartoonist who inspired the chorus. 
Honeyfunk was started during the Pandemic and Lee hopes to play this song with them.
Style by Taylor Swift: Played by Coco on Fessenden Street
Coco, age 9, enjoys playing the Uke, building lego houses, drawing portraits, sculpting pottery, and paddling!
Style, played by Coco on Uke