November 27 – December 17, 2022
Collage
Carolyn Morrow Long, Tenleytown
Carolyn Morrow Long has always been a practicing artist. After graduate school she moved to New York City and then to rural Middlebury, Vermont, where she made collages in her tiny apartment and made and taught pottery at the Frog Hollow Craft Center. After moving to DC in 1980, she worked for eighteen years as a conservator of paper artifacts and photographs at the Smithsonian's National Museum of American History. It was only after retiring in 2001 that she had time to pursue her own interests. Inspired by many visits to New Orleans, she has written three books about the history of the city, and has also returned to making collages. Many of the collages are inspired by New Orleans and its iconic characters. Since 2013 Carolyn has each year created a holiday card that always includes an image of her beloved cat Jacques. Her display at the Little Gallery features these holiday cards, which are for sale. If you are interested, connect with Carolyn by clicking the button below.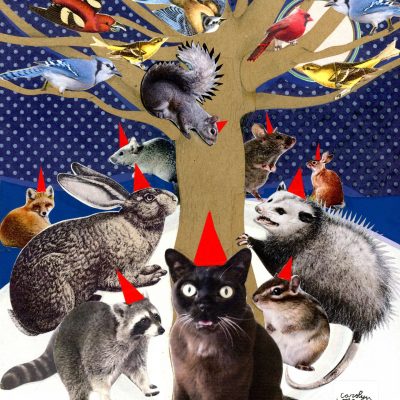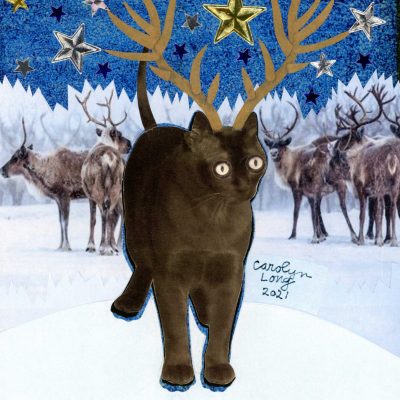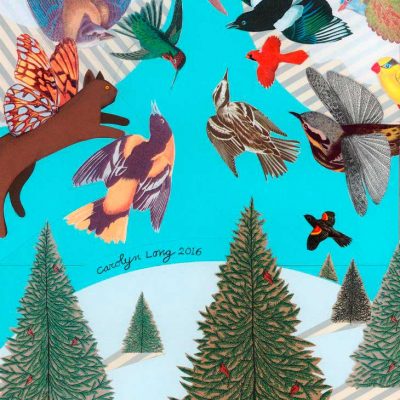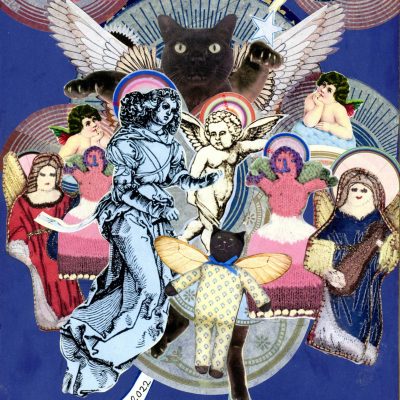 Original Art Inspired by Mary Oliver's Poetry
Martina Sestakova, Kensington MD
Martina Sestakova is a Kensington artist who is fascinated by words and their powerful imagery. For this exhibit, Martina enjoyed Mary Oliver's poem – "Wild Geese" – as inspiration for her visual explorations in acrylic inks on Yupo. Each artwork is a meditation on the perceived meaning of the title (a word taken out of the poem).
Press the audio button below to listen to Martina reading the poem for its overall message and then imagine how you would capture each selected word.
To learn more about Martina, click below to visit her website.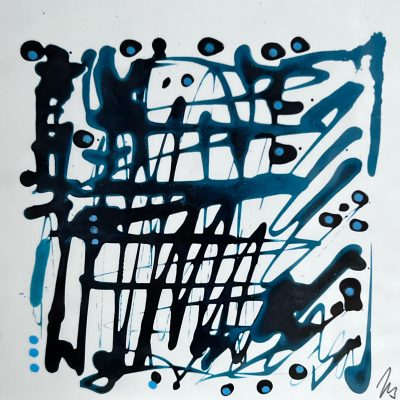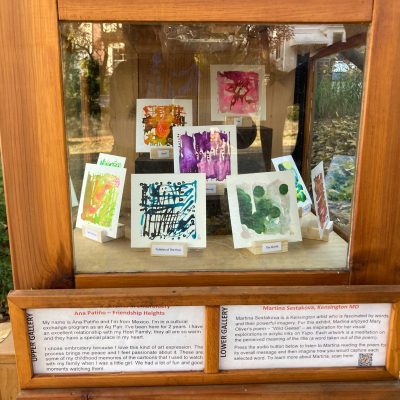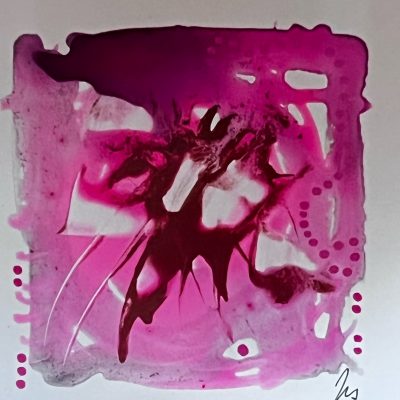 Wild Geese by Mary Oliver read by Martina Seskatova
October 15 - November 5, 2022
Spooky Art: Arachna Potter 
Be wary. She is somewhere near you
Arachna Potter never dies so it's not a problem for her come back to Little Gallery year after year after year. Her work is inspired by spooky things. She loves bats, cats and ghosts. Arachna hopes you enjoy her scary artwork. Thanks for visiting!!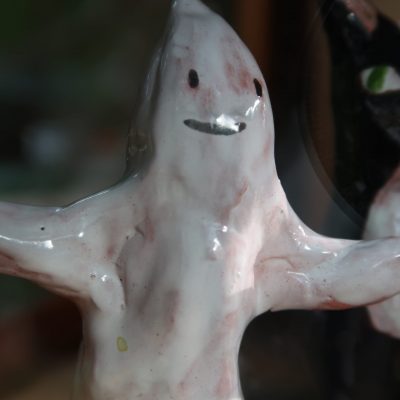 September 24 – October 15, 2022
Origami: Anonymous in Friendship Heights
This origami enthusiast learned to fold lovely paper creations at a very young age. He has traveled to Japan where origami originated and enjoyed visiting a famous origami studio that inspired him to continue his hobby. He hopes that his creations will inspire you to give paper folding a try.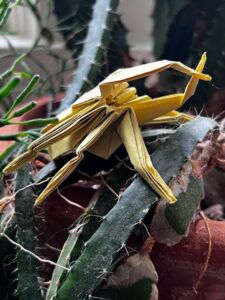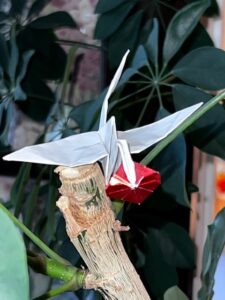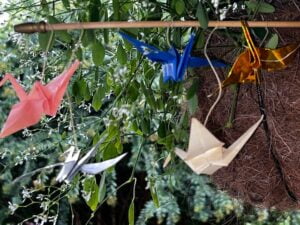 September 3 – 24
Jewelry: 12-year old Leah in Tenleytown
Leah is 12 year old girl who moved to DC at the beginning of this year. Leah enjoys wearing and making jewelry, especially rings and bracelets. She has been making jewelry for about a year, using wire and beads. Recently she participated in a workshop and discovered glass as a new material for making jewelry. 
Leah loves the idea of the Little Gallery and wants more people to enjoy making jewelry. Hopefully, the displayed jewelry will be an inspiration for others.
When Leah isn't making jewelry, she enjoys crafting and gymnastics.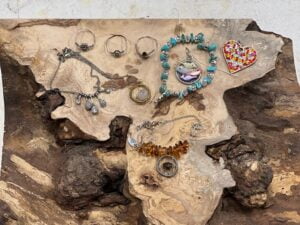 July 24 - August 12, 2022
Cats and Superheroes: 9-year old Jane on Yuma St.
Jane loves Minecraft and swimming.  She wants to be an artist, and make comic strips.  Jane really likes reading series books. Her art features a lot about the book series Warriors, which is about lots of cats.  Her art is sketching, using pencil and paper.  She also is showing one print, which uses paint and shows a mountain.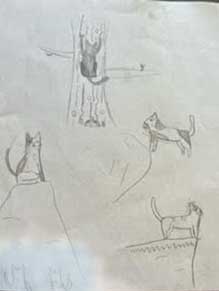 Harry Potter Portraits: Lena in Tenleytown
Ever since 9-year-old Lena read the first book of the Harry Potter series, she's been sketching with pencil and painting with watercolor her favorite characters. Lena's made 14 paintings so far and is continuing to read the series. She hopes you enjoy her paintings!  
Little Gallery artists often inspire passersby to draw.
These were inspired by Lena's exhibit.

Thoughts on Paper: Helena in Friendship Heights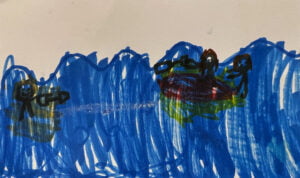 Helena just finished kindergarten and is about to turn six.  She has a passion for drawing and recently experienced her first-ever sleepover with a friend.  She came home, overjoyed with happiness, after experiencing 'hotdog float-riding' on a lake, bunk beds, and bike-riding!  
Before drawing these, she drew a few pieces reflecting Zoom calls she often witnesses in our current era.  After her sleepover, she felt ready to express a fullness of experience with her friend.  She has a caring heart and hopes her younger sister, Cora, can someday have a turn in Little Gallery.
Peeps Diorama: Max and Coco on Fessenden Street
In 2007, the Washington Post created what was probably the best-known Peeps contest in the United States.  Unfortunately, for some unexplained reason, it was discontinued in 2017. Remarkably, it was recently revived on TikTok. Max and Coco's diorama may be the first in a yet to be announced annual Little Gallery Peep Show exhibit.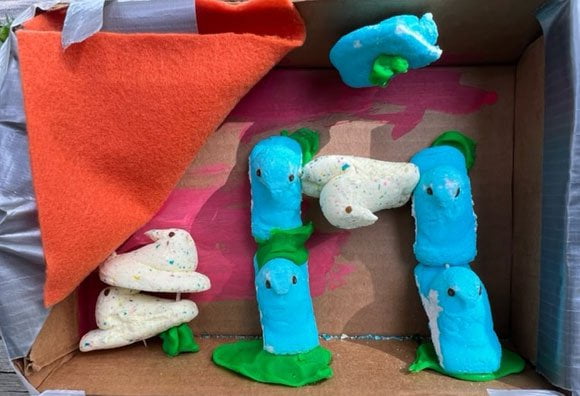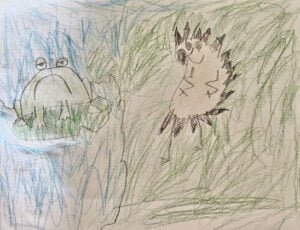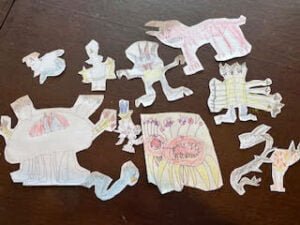 Crayons and Scissor Work on Paper
5-year-old Eamon on Yuma
Eamon is five years old and loves animals, space, and hearts.  He wants to be an astronaut, and to discover if dragons and Pokemon are real.  Eamon would also really like to visit where Moana is. One of his art exhibits features a series of a frog and a hedgehog combining together, and then combining with other things in nature. He also colors monsters, Pokemon characters, and gems, which he cuts out himself.
February 26 - March 20, 2022
Ink and Paint on Paper: 5-year-old Martin on Military Road
Martin is a passionate artist and scientist. He loves outer space and hopes to defy gravity some day. This collection is inspired by his favorite character, Snoopy, who recently became an astronaut.  In his drawings, you can see Martin and Snoopy in different adventures.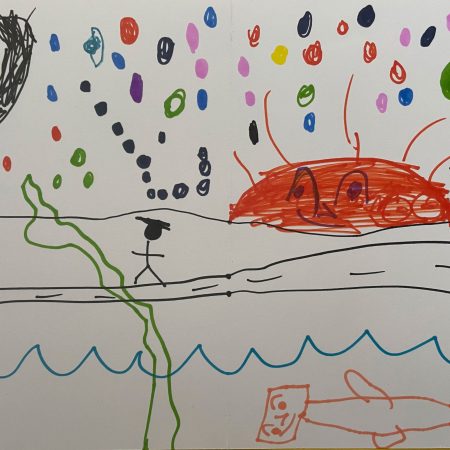 December 16, '21 - January 9, '22
Watercolors on Wood: Olivia on Garrison St.
10-year-old Olivia used water-based colors for this holiday-inspired artwork. Olivia has been painting for as long as she can remember. She paints on paper, canvas or wood, with acrylic and water-based paints — and she attends weekly art classes. She chose a three-dimensional wood panel for her artwork for the Little Gallery to give the piece some depth, with stars on multiple surfaces. Olivia chose the Christmas tree to be the focal point of her art as she considers it to be a universal symbol of holiday spirit. She hopes to produce additional works for the gallery in the future. 
November 20 - December 16, 2021
Acrylic on Canvas: Meghan Thompson on Harrison St.
Meghan is 15 and a sophomore at Wilson High School. She plays softball and is on the robotics team. She likes to read, paint, do crafts and hang out with her friends.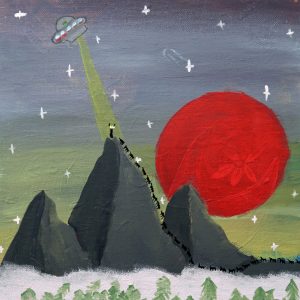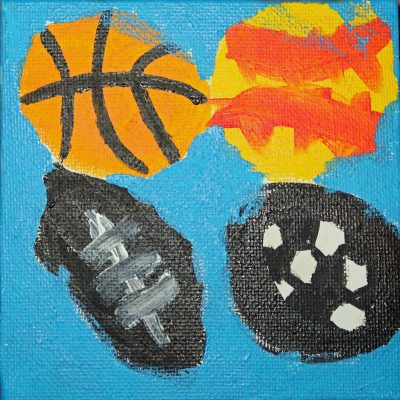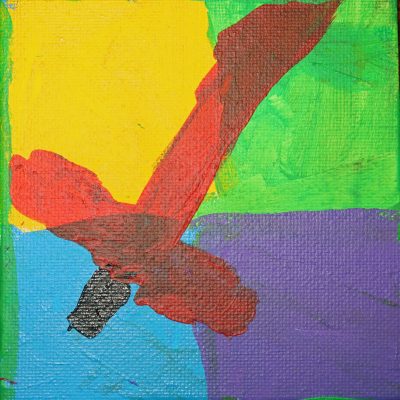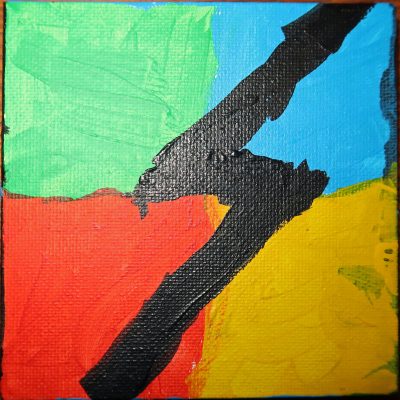 Acrylic on Canvas: Leila from Tenleytown
Nine year old, Leila loves Harry Potter, Star Wars and all kinds of sports. She has been playing baseball since kindergarten and is a huge Nationals fan. These are the inspiration for her art. She hopes you enjoy it.
October 19 - November 2, 2021
Over the last three weeks, kids of all ages have stopped by Little Gallery to draw scary pictures. Over thirty drawings were done – too many to fit in the gallery. The scariest drawings, as chosen by local curators Max and Mandy, are in Little Gallery.  All the drawings are posted here.  Don't get too scared! See if you can find yours!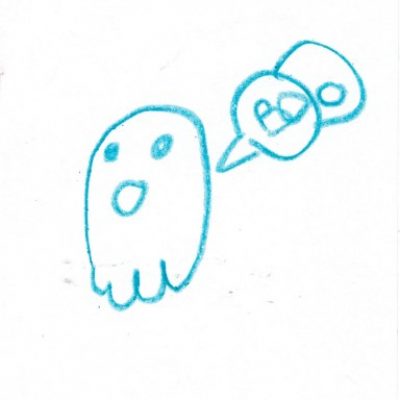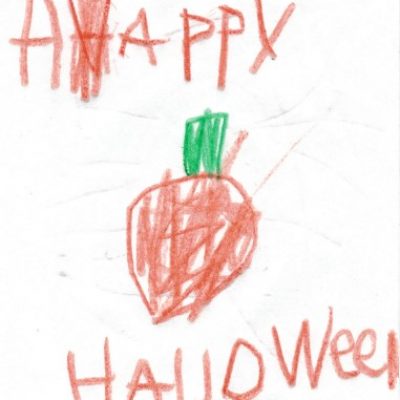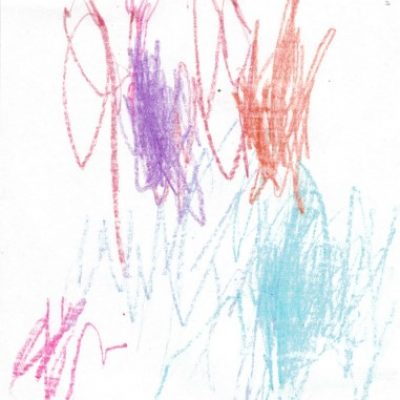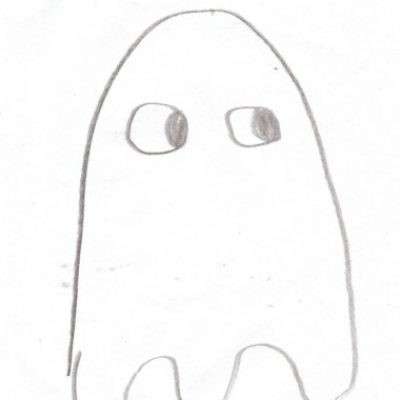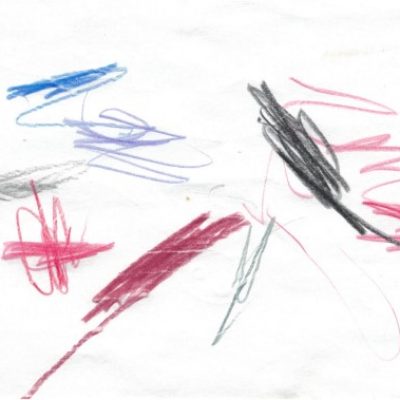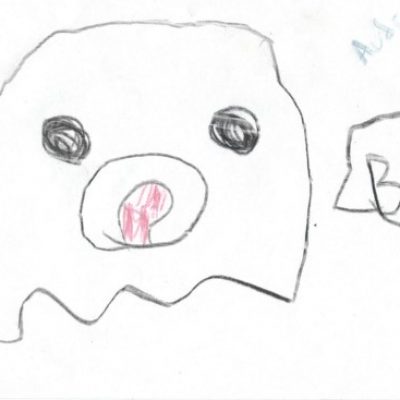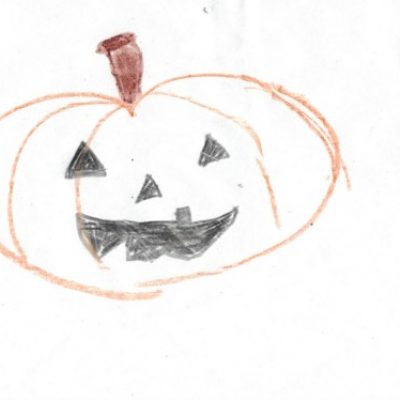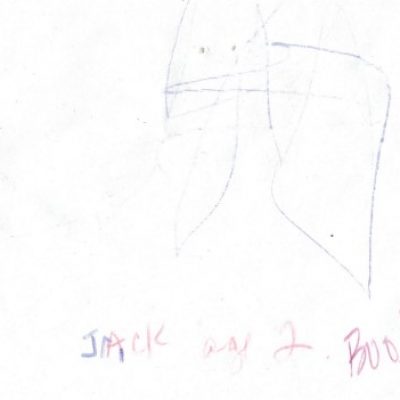 September 25 - October 15, 2021
3D Art: Max, age 6 on 44th Street
My name is Max. I am 6 years old. I am a kindergartener at Janney. I like art because I can make anything with it. I like making 3D art because it looks realistic. This scene shows a mountain on a sunny day and my clay project, inspired by nature. There is a volcano, a sun, a waterfall, and a vine. I hope you enjoy it. It makes me feel happy when I look at it.
August 28 - September 25, 2021
Pottery and Woodwork
Ida, age 11 and Louise, age 9 on 43rd Pl
I made pottery at Eagle's Nest Camp in Asheville. It is a coil pot with yellow glaze. Thanks for viewing!
 – Ida
I made this wooden lightning bolt at sleepaway camp this summer. I used scrap pieces of wood and I only sanded them. It can move back and forth to create different shapes, but I made it to be a lightning bolt.
– Louise
Photos of Flowers: Mandy, age 9 in Friendship Heights
One day during Covid, I picked up my Dad's old camera and started taking pictures. It stuck and I fell in love with photography!
Spin Art: Oskar, age 11 on Fessenden St.
Hello,
I'm Oskar and I live here on Fessenden St. I'm into all sorts of sports and stuff but one thing I like to do is grab some canvas and paint and make spin art.  It's kinda messy but I like the results. Hopefully you will as well.